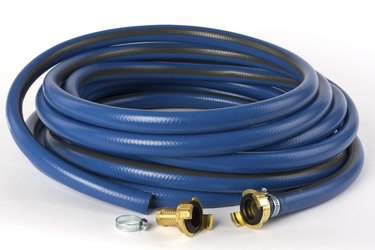 Garden hoses make getting water from the spigot to your flowers and vegetables much easier than hand-carrying buckets of water. Hose sizes range from 3/8 inch to 3/4 inch in diameter. The larger the size the more water volume delivered through the hose per minute. In the United States the most common size hose sold in home improvement stores for residential use is 5/8 inch; larger sizes are used in commercial applications.
Match It to the Hose
A garden hose connector attaches the hose to the spigot or a hose accessory such as a spray nozzle or wand. The size of the connector depends on the size of the hose. For example, a 5/8-inch hose uses a 5/8-inch connector. To determine the size of your connector measure its inside diameter. Do this by laying a tape measure over the mouth of the connector and reading the measurement from the inside wall of one side of the connector to the opposite inside wall. Don't measure to the outside of the wall, that diameter is larger.