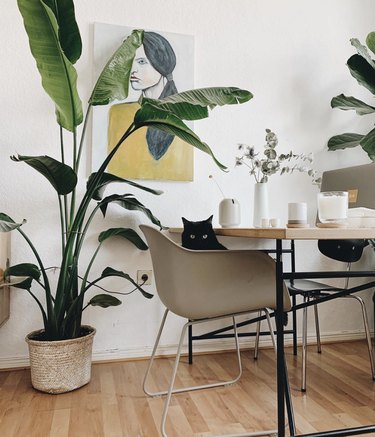 If you're on the hunt for a houseplant for your minimalist home, you'll want to select no-frills greenery that's strong and unfussy. While minimalist spaces are famously known for being pared down, introducing plants adds architectural elements and warmth to your home, keeping it from looking too empty or cold. Also nice: Many plants help to purify indoor air of toxic chemicals.
Ahead, 10 minimalist plants made for simple spaces.
1. Chinese Money Plant (or UFO plant)
Known as the 'Chinese money plant,' the pilea peperomioides is a popular plant in Scandinavian and minimalist homes since its bright green coin-sized leaves (hence the name) offer a punch of color against neutral backgrounds. It needs bright light — but not direct sunlight — and be sure to rotate it once a week to prevent it from getting too lopsided. Shop it on Etsy or The Home Depot.
2. Fiddle-Leaf Fig
The Fiddle-Leaf Fig (otherwise known as ficus lyrata) may not be the easiest plant to keep alive, but that doesn't discourage it from being one of the most popular houseplants in the minimalist world. It looks beautiful against white walls and natural wood finishes. This tree needs bright, indirect sun and a consistent environment (don't move it around!). Shop it here.
3. Pothos
Another great option for minimalists, the Pothos, also known as epipremnum aureum, is a vining plant that looks as great cascading from a bookshelf as it does hanging over a bathroom tub. It does well in a variety of light conditions — from bright, indirect light to rooms with little sunlight. If you already have a planter you love, pick up a Pothos in a growers pot from Walmart or The Home Depot, or opt for this ready-to-hang Pothos in a cute jute basket from Anthropologie.
4. ZZ Plant
Perfect for minimalist homes, the ZZ Plant (or zamioculcas zamiifolia) has dark green branches and smooth, waxy leaves that reflect sunlight to brighten your space. Place your ZZ in low to bright indirect light, and just water it when fully dry. Even if you miss a few waterings, it'll still survive, making it perfect for those who don't have green thumbs. Shop a simple 4-inch ZZ at Walmart or a slightly larger 6-inch plant at The Home Depot.
5. Bird of Paradise
Strelitzia reginae, commonly known as the crane flower or bird of paradise, is a minimalist plant that brings a tropical vibe to simple spaces. It usually grows to be about 6 feet tall and the leaves naturally split as they get bigger. While it needs bright light and prospers in more humid settings, it still makes for a great indoor tree — just stick it in a sun-filled room. Shop it here.
6. Swiss Cheese Plant
The Swiss Cheese Plant, or monstera deliciosa, is a sturdy, easy-to-grow indoor plant that complements white walls and more subdued furniture and textiles. It requires bright light and enough space on either side of it so that the leaves have plenty of room to grow outward. Shop it at The Home Depot or Terrain.
7. Snake Plant
While you most likely recognize this as the Snake Plant, or dracaena trifasciata, its stiff, almost stick-straight leaves make it an ideal plant for minimalist homes. Plus, it can be displayed on the floor or on a tabletop in your kitchen. Fortunately, it thrives in both bright light and dark corners, making it rather versatile. Shop it on Etsy, Walmart, or Wayfair.
8. Rubber Plant
Known as the Rubber Plant, the ficus elastica features red-tinted stems and glossy leaves and can be found in both petite sizes and tree forms. It looks amazing in a ceramic planter and wood stand in your living room or in a basket placed on the floor of your bathroom. Just note that it needs bright, indirect sun, and you want to wipe the leaves when they get dusty. Shop it here.
9. Elephant Ear
Aptly named for its resemblance to an elephant's ear, the colocasia esculenta adds a bit of green to your minimalist bedroom (simply place on your nightstand) or an entryway. The adorable plant does well in partial shade and likes a lot of water. Snap one up at Etsy or The Home Depot.
10. European Olive Tree
The European Olive Tree (also known as olea europaea) is a popular choice for minimalist homes — as seen on designer blogs and Instagram — thanks to its thin, elegant trunk and slightly voluminous top. While it can be happy indoors with ample sunlight, you'll want to move it outside during the warm, summer months. Although trees can be pricey, you can score an under-$100 European Olive here.