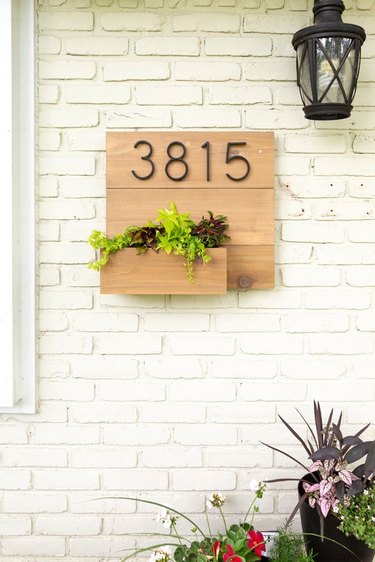 It's no surprise that we tend to focus most of our attention (and budgets!) on the inside of our homes — after all, that's where we spend the bulk of our time, so it only makes sense that we'd want to invest in making them as comfortable as possible. However, that doesn't mean that we should give up on the idea of updating the exterior of our homes, too.
Surprisingly, there are a myriad of ways to add a little extra curb appeal without spending a pretty penny, and we know just where to start: the house numbers. With a quick, easy, and inexpensive DIY project, we can give the exterior of our homes a stylish upgrade. Intrigued? Scroll on for nine DIY house numbers that look better than expensive store-bought options.
1. Go modern.
You'd never guess that Amanda from A Crafted Passion made this modern house number sign with her own two hands, but she did. With the help of some left0ver wood shims and a little plywood, she was able to add a dash of warmth and contrast to the outside of her home for around $30.
2. Opt for white.
If we didn't know any better, we'd think that this DIY house number plaque by One Project Closer had been purchased at a retailer like West Elm. The black numbers and trim really pop against a white background, making it easy for visitors to see it from the street. And bonus, the black and white combo pairs beautifully with the white brick exterior and black lantern-style wall sconce above.
3. Heat things up.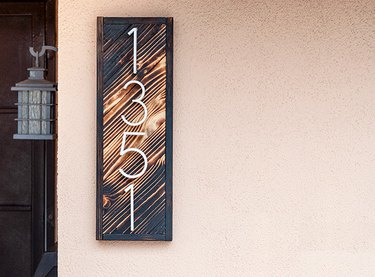 If you really want to get creative, follow the lead of Anika from Anika's DIY Life and heat things up with a little fire. Using a small torch, she charred the wood of her house number sign, giving it an uneven black finish that adds depth, contrast, and visual interest. Just be sure to take every safety precaution before you get started.
4. Employ a textured backdrop.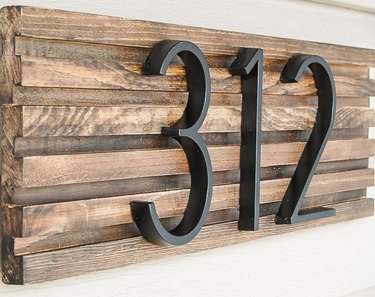 If you like the idea of adding texture and depth, but feel like a blow torch is a little too advanced, we totally understand. Instead, give this DIY house number sign a try. Katie from Little House of Four used different sized square dowels to create a plaque with wood grooves, and then topped it with sleek black numbers to complete the look.
5. Think outside of the box.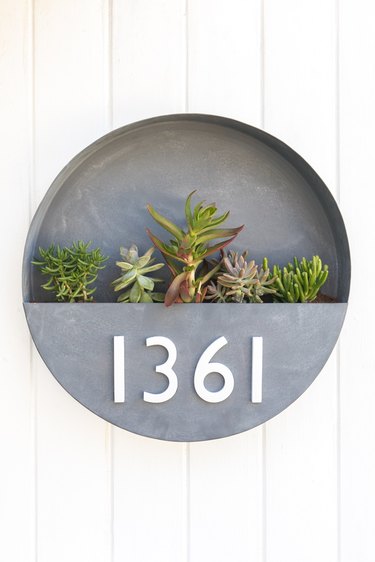 There is no rule that says your house numbers can only live on a square or rectangular plaque. Think outside of the box ... literally, and opt for a circle instead. We love this adorable round planter idea with succulents by Sarah of Sarah Hearts. It's the perfect project for spring!
6. Embrace herringbone.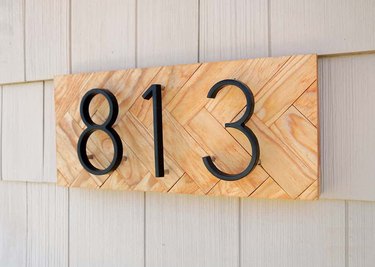 Love herringbone as much as we do? Then this DIY house number sign by Sam from DIY Huntress is the perfect match for you and your home. Not only does this project provide you with a chance to showcase the beloved pattern, but it also gives you an opportunity to show off your mad skills with a miter saw.
7. Put your front yard to work.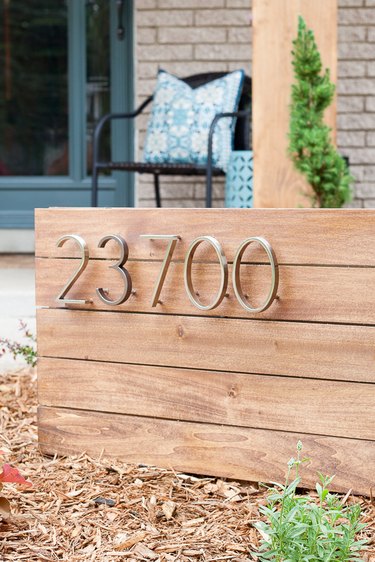 If you're lucky enough to have a front yard, put that exterior square footage to work. Chris from Just a Girl had the right idea — she built a large sign for the house numbers and staked it right next to the walkway. Not only is this easier to see from the street, but it's also a good way to make your porch and yard feel connected.
8. You can't go wrong with brass.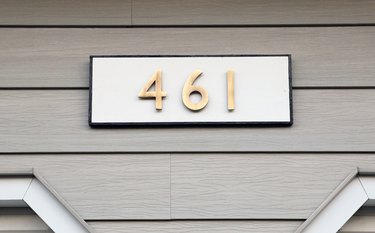 Give your DIY house number sign the glam treatment by incorporating a touch of brass. Chris and Julia of Chris Loves Julia did just that, and the lustrous finish feels special and eye-catching without going over the top.
9. Incorporate some greenery.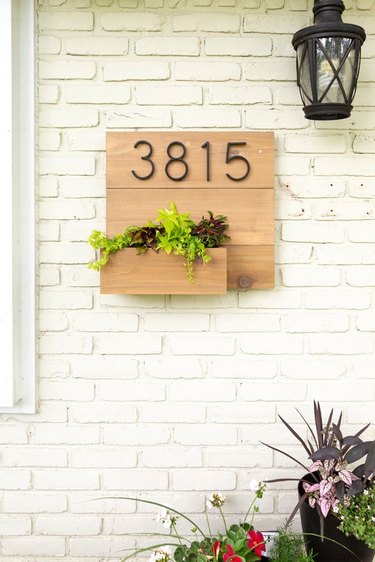 We might be a little biased, but this DIY house number sign/planter box is one of our favorites. We love the look of warm wood paired with verdant greenery — the combination is simple, yet charming, and works with a variety of design styles. But more than that, it's an easy project that even the most novice DIYers can tackle.