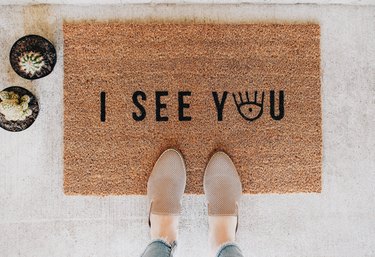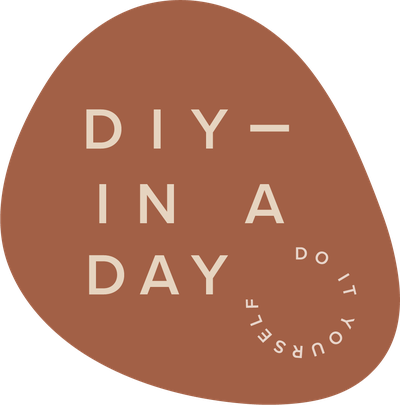 DIY in a Day brings you step-by-step instructions for easy projects that will spruce up your space — within 24 hours (or less!).
Want a cheeky welcome mat that sets the tone for your home? We've got a DIY (and free download) that'll do just that — while also leaving dirt at the door. Ideal for entryways, mudrooms, patios, or porches, this custom doormat is the perfect mix of fun and function. And thanks to the modern minimal eye graphic, it also happens to be majorly on-trend. We foresee (wink, wink) instant curb appeal wherever you place it.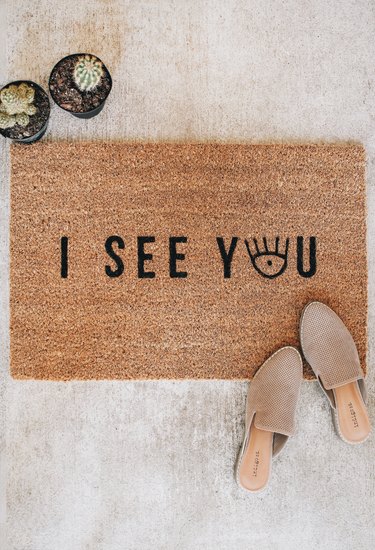 Step 1
Download and print the free template onto cardstock. If you'd prefer the letters to be smaller or larger than what we used, simply adjust the scale size in your print settings prior to printing. (For reference, we used font type Bebas Neue with a font size of 250 pt.)
Step 2
Use scissors to cut out the individual letters and eye shape from the template, leaving about a 1/4-inch square border around each letter.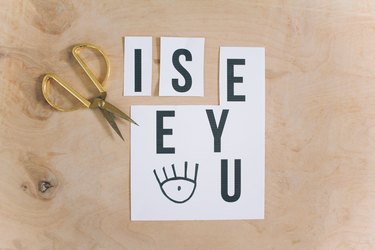 Step 3
Use a utility knife to carefully cut around the lines of the letters and eye shape to create stencils.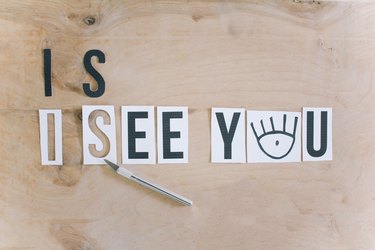 Step 4
For the eye shape, you'll need to cut around the outline first and then cut out the center part of the eye. You'll be left with two pieces, which you'll then need to tape back together to form the stencil.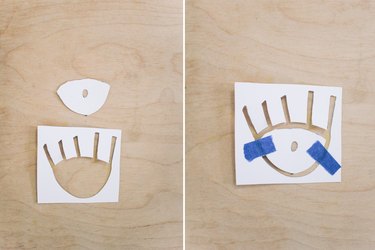 Step 5
Use a ruler to find the center of your doormat so that you can center and space the words evenly. Then place a long strip of tape across the doormat to form a guideline so you can ensure the bottoms of all the letters will be lined up and straight.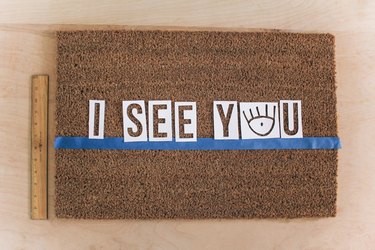 Step 6
Tape all four sides of each stencil in place on the doormat. Trust us, you'll want to err on over-taping rather than under-taping to ensure a nice clean paint job. Be sure to keep the letters straight and aligned on the guideline as you tape them.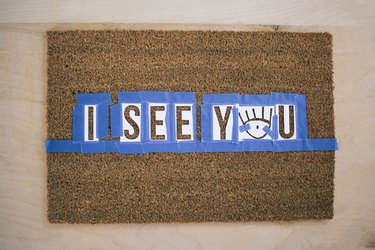 Step 7
Saturate either a small stencil brush or foam brush with black paint and gently press it into the exposed bristles within the stencils. Avoid using a paint stroke motion like you would if you were painting a wall; a dabbing/tapping motion works best for this project to avoid smearing paint outside of the stencil lines.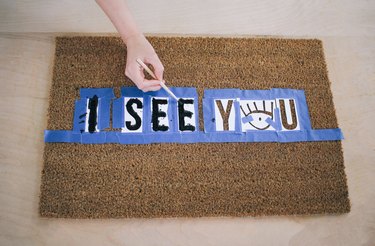 When you get to the eye stencil, paint around the entire outline and allow it to dry completely. You'll be left with two blank spots within the eye shape where the two pieces of tape are holding the stencil together. Remove the tape pieces and re-tape the stencil back together either above or below the blank spots. Fill in the blank spots with paint.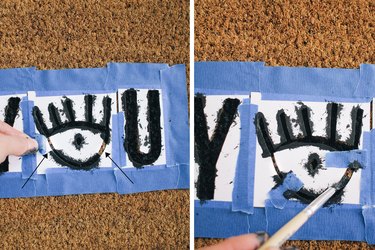 Step 8
The mat is going to soak up a lot of paint, so allow at least an hour or so for it to dry completely.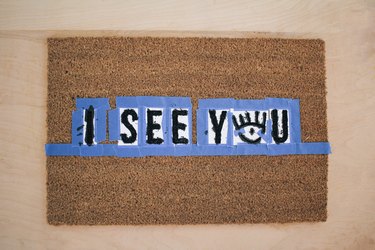 Step 9
Once the paint is completely dry, carefully remove the stencils from the doormat.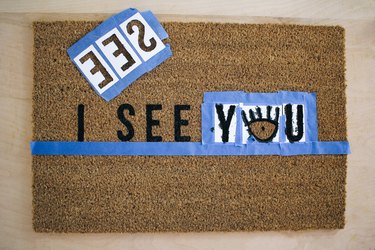 If needed, touch up any spotty areas with more paint.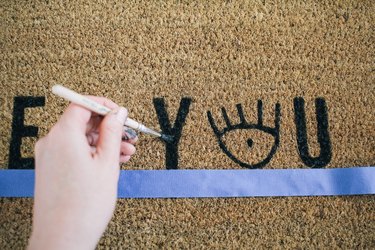 Place your new doormat in a high-traffic spot to greet and amuse everyone as they come and go.