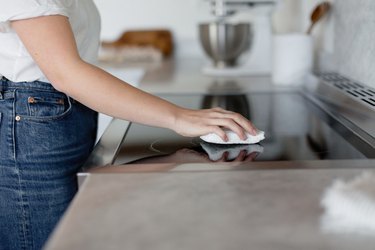 With the coronavirus pandemic still making headlines, you're likely taking the time to clean and disinfect your household more than ever. But, how often should you be sanitizing the different areas in your home? For instance, should you be cleaning your doorknobs more often than you would your countertops? What about your chairs, tabletops, and sinks?
To get to the bottom of what your current cleaning schedule should look like, we reached out to healthcare professionals and consulted resources from the Centers for Disease Control and Prevention (CDC). What we discovered can help you as you try to make sense of what to do during this time.
"Kitchen surfaces like counters should be [cleaned] once a day," microbiologist Jason Tetro, author of The Germ Code, tells Hunker. "All other surfaces, probably about once a week if everyone is healthy. If someone is sick and roaming around, probably once a day for infrequently touched items and numerous times a day for frequently touched items."
The CDC confirms this in its Clean & Disinfect recommendations for households with suspected or confirmed coronavirus disease. It specifically states that community members should implement routine cleaning, with detergent or soap and water, of frequently touched surfaces — phones, doorknobs, handles, hard-backed chairs, desks, light switches, toilets, sinks, and faucets — followed by disinfection using diluted bleach solutions, alcohol solutions with at least 70% alcohol, or EPA-registered household disinfectants.
For those housing someone who is suspected or confirmed to have the coronavirus, the CDC advises daily cleaning of frequently touched surfaces. If the ill person has a separate bedroom or bathroom to use, it should be cleaned as-needed so one can avoid unnecessary contact. If a separate bathroom is not available, the CDC states the shared bathroom should be both cleaned and disinfected each time the ill person is done using it. "If this is not possible, the caregiver should wait as long as practical after use by an ill person to clean and disinfect the high-touch surfaces," the organization states. Caregivers can also provide the ill person with personal cleaning supplies they can use if they're able to.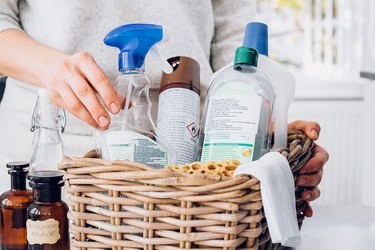 One should also pay attention to their household's exposure to the outside. "If you have been outside and touched any handles again/multiple times, clean them again," pharmacist Mohamed Imran Lakhi tells Hunker. "This goes for any taps [aka faucets] too." In other words, if your household is not able to remain quarantined inside, frequently touched surfaces should be cleaned after any sort of exposure to the outside world.
Again, it is important to note that cleaning and disinfecting your home is a two-step process. First, you must clean and scrub the surface with a detergent or soap and water. After, use one of the CDC's recommended disinfection substances, but make sure that you allow that solution to sit on the surface for the recommended time. Always consult the product label, and make sure to follow all necessary safety precautions.
TL;DR: Clean kitchen surfaces daily and all other surfaces once a week. Precautions are different if someone at home is sick, so be sure to consult the CDC's suggestions.