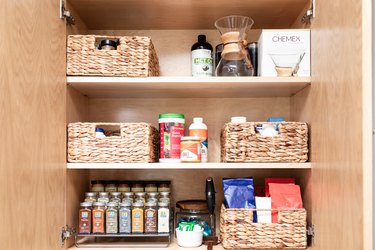 We're not saying it's time to panic. But now's a time for honesty, and tbh, our team has been discussing coronavirus (or Covid-19) every day for the past week or so. And yes, we're admitting to prepping. We don't have doomsday mentalities, but living in a large city like Los Angeles, much of our team has decided there's no harm in keeping our homes fully stocked ... just in case it gets to a point where we're being asked to minimize contact with the world. (::shoulder shrug::) Here's what we've bought:
Gina, Audience Development Director:
Gatorade
Vodka (for boredom drinking but also a backup plan if we run out of actual cleaning products)

Toilet paper
I ordered hand sanitizer too but the Instacart driver said it was sold out, surprise surprise...
Leonora, Senior Director:
Long-lasting vegetables and fruit: Onions, garlic, sweet potatoes, celery, carrots
Frozen vegetables: Kale, spinach, cauliflower, butternut squash
Frozen meats: 2 packages chicken sausage, half-dozen pack of chicken breasts
Frozen fish: Pack of Mahi Mahi, pack of salmon
Frozen meals: 1 Trader Joe's meal kit, two frozen Indian dishes
Frozen fruits: Mixed berries, a few bananas, frozen mango, frozen pineapple
Non-perishables: 6 cans beans, two boxes butternut squash soup, 5 cans diced tomatoes, anchovy paste, tomato paste, tomato sauce, farro, rice, 3 packs of spaghetti/pasta, bunch of Rx Bars and fruit leather, large packs of nuts, dried fruits (apple rings, dates), olive oil
Coffee
Household items: We did a Costco run for bulk toilet paper and paper towels (we do this a few times a year anyhow, just pushed it up), laundry detergent, dishwasher detergent, anti-bacterial wipes
Now that I look at this list, I realize I want to make sure to add some more things to it: Advil, toothpaste, dish soap, pet food.
Eva, Associate Editor:
Somehow, I feel like our cat has more food stocked up than we do which is not a good look. But I'm planning on doing a refresh of our pantry with some of my staples:
Canned things like beans, artichoke hearts (yum), black olives, the works.
I'm also a huge fan of cured meats and pickled things.
And naturally, we'll stock up on plenty of pasta and rice, along with my personal essentials like tortillas, apples, almond butter, and lots of almond milk.

Oh, and cookies.
Colette, Hunker House Manager:
Extra formula
Baby diapers
2 bottles of wine
Flu medications
Frozen meat and veggies
Laurie, Director of Editorial Operations:
Peanut butter, almond butter, jelly
Olive oil
Canned soup, chili, beans
Boxes of mac & cheese, plain pasta, rice
Hard candy, chocolate
Canned dog food
Chicken and vegetable stock
Boxes of almond milk

Nuts, cereal, and oatmeal

Dried fruit (apricots, apples, mangoes)

Turkey jerky

Crackers
RX Bars and Quest Bars

Paper towels and toilet paper
Extra batteries
Hand soap, hand sanitizer,
Extra medicine (aspirin, cough medicine, antacids, etc.)
Feminine products
Plastic garbage bags
Unscented chlorine bleach
Lowe, SEO Editor:
I haven't really stocked up on anything and I might not ... BUT I do have a lot of water bottles and bubbly at home ...
Katie, Commerce Editor:
I got extra bathroom/grooming products so I don't have to get more if they run out: toilet paper, paper towels, bar soap, shampoo/conditioner, etc.
I also swear by Zicam!
Read more: