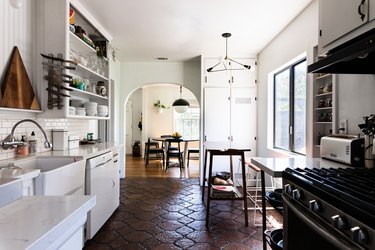 Ready to take your kitchen to the next level? Then take a step back from it — and look down. See that floor beneath you? It's where the heaviest action takes place. Kitchen floors have to withstand a lot of foot traffic and all the mishaps and joys that come with cooking: spills of various sizes and consistencies, and the occasional falling objects (and klutzy individuals). To ensure that your next kitchen floor is a source of happiness for your eyes, feet, and bank account, consider these five kitchen floor ideas on a budget.
1. Have fun and save money with vinyl.
Pros: Whether in sheet form or peel-and-stick tile, vinyl's cost, versatility, resilience, and range of available designs are hard to resist. (For fans of Netflix's Interior Design Masters, weren't you entertained by contestant Frank Newbold's use of vinyl for practically every challenge?) A square foot of vinyl flooring can come in under a dollar, it's easy to clean and install, resists moisture, lasts for many years, and provides a little cushion to the feet and less noise to the ears, as it absorbs foot (and paw) traffic fairly well.
Cons: While vinyl flooring has a long lifespan, it is not recyclable, cannot be refinished, and heavy objects can dent the floor. During initial installation, the vinyl can emit volatile organic compounds that aren't kind to the respiratory system, so you'll want to take steps to minimize or eliminate exposure during this outgassing process. And should the flooring catch on fire, whether a small area or a large one, the vinyl would emit harmful fumes.
2. When wood isn't in your budget, try laminate.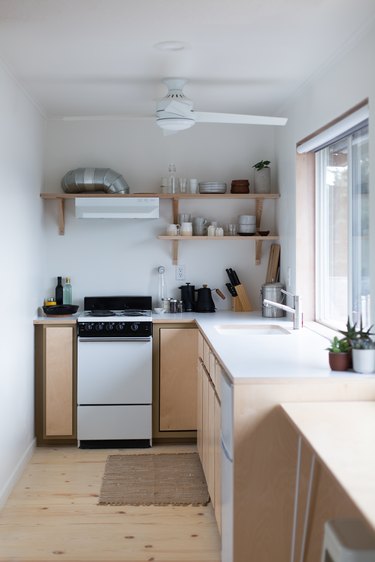 Pros: Laminate flooring mimics the look of all manner of real wood at a lower price point. It can also be laid over existing flooring quite easily, especially if you're using planks that snap together. Such an option means there's no need for glue. It's easy to clean and maintain, as long as you keep it dry, and it can handle heavy traffic, so lasts well over time.
Cons: Should you miss a puddle of water or liquid on your laminate flooring for a long period of time, it can cause swelling that can't be repaired. As someone who has laminate in the kitchen, the biggest drawback is that it can't be sanded and refinished, so we have a number of scratches and little holes on our floor we've had to live with or strategically cover with carpet. Carpenters and contractors have pushed wood-toned repair markers and putty on us to address, but with the wood design we have, unless you're a skilled artist, such treatments bring more attention to the flaws.
3. Concrete is making a comeback.
Pros: In my circle of friends, a few have embraced existing concrete flooring in their kitchens and other areas of the home, because they like the look and the money they save keeping it. If you too have concrete in your kitchen, consider polishing it, suggests Doug Busch of Busch Design Build, as it would be the least expensive route. There are numerous staining, etching, and stamping options as well, and a big plus is concrete is easy to clean. Concrete resists scratching and denting, and even if your floor does experience cracking over time (say if your house shifts), some see it as added character. If you're looking to introduce concrete into your home, there are economical options as low as $2 per square foot.
Cons: One disadvantage of having concrete flooring in the kitchen, Busch notes, is, "It's hard to stand on for long periods of time." It's as hard a surface as you can get, which is why they're ideal for driveways, but this also makes it not as friendly for standing. Likewise, if you drop something fragile such as a glass or a ceramic plate on the concrete floor, it's likely to break. And while you may appreciate the cold feel of concrete during warmer months, your bare feet may not during the chillier ones.
4. Cork flooring offers comfort and ease.
Pros: Sustainable and inexpensive, Busch also recommends cork flooring for the kitchen. In addition to being easy to stand on for long periods of time because it has some cushion to it, it can absorb noise (so bring on the heels and active pets with long nails) and possibly the fall of fragile objects, and comes in a variety of styles, not just wood grain. Cork flooring also resists moisture (thus mold and mildew), does not show dirt or dents as much as other flooring, and isn't cold to the touch if you are barefoot.
Cons: Because of its softer composition, heavier furniture can make a greater impression than you intend, so if you're running cork throughout your dining area as well, be conscious of this. And while direct sunlight may brighten your day in the kitchen, it can also cause the color of your cork floor to fade with too much exposure.
5. Get chic and creative with patterned ceramic tile.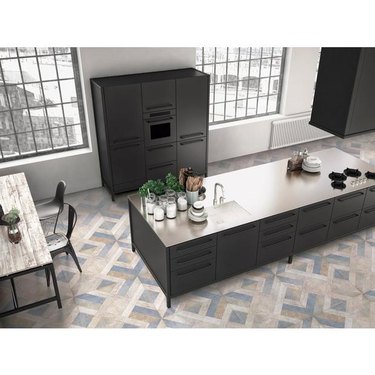 Pros: The ceramic tile floor in this kitchen adds so much personality for under $2 a square foot. Remarkable, no? For all of the other reasons it's a popular choice for the bathroom, it's a smart choice for your kitchen floor: ease of installation and cleaning, durability, moisture (and germ) resistance, and an endless range of styles and possibilities. Ceramic tile can also withstand the daily traffic of children and pets without denting. If you're feeling adventurous, mix, match, and clash the tile to your heart's content without breaking the bank. "Create a graphic pattern using inexpensive floor tile," says Alanna Dunn of Reena Sotropa In House Design Group. "Hexagon shapes are great to create fun patterns!"
Cons: Keeping what's clean between the tiles, grout, is important. It's something you wouldn't have to worry about with the other flooring options, so choose the color of your grout wisely! And as with concrete, ceramic's hard surface may not be kind to your body if you're standing on it for long periods of time.