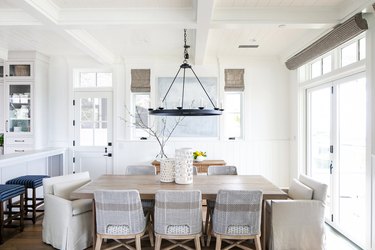 Trends may come and go but as far as we're concerned, transitional design can withstand the test of time. As the happy medium between modern and traditional design, the contemporary style pays homage to the past, present, and future. And while you may adorn your home with trendy throw pillows, midcentury modern furniture, and the latest "it" color, a transitional foundation can give your space a timeless flair.
Want to bring the timeless aesthetic into your dining room? Transitional dining room lighting is the easiest — and often cheapest — way to do so. Below, 10 dining room lighting ideas that will illuminate your next dinner party.
Mix and Match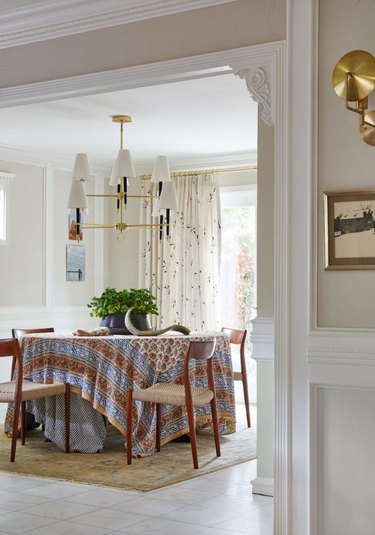 Want to find transitional dining room lighting that will wow the crowd? Look for a fixture that blends two styles into one. In this dining room by interior design firm Landed, the fixture's traditional lampshades are juxtaposed by its bold black and gold color palette. While this pairing might seem like an unlikely combination, the sleek silhouette gives the two contrasting elements a cohesive flair, bridging the gap between old and new.
Fabric Finishes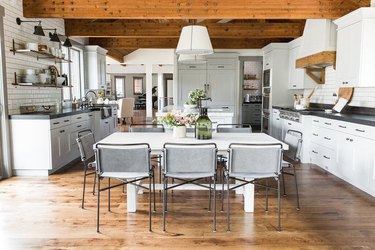 When it comes to transitional dining room lighting, fabric finishes are all the rage. But just because they're a far cry from today's metal accents and bulbous, globe-like bulbs doesn't mean fabric shades can't be contemporary and cool. In this home, interior design firm Studio McGee paired an all-white kitchen and dining room with two fabric-clad pendants. The crisp white pendants offset the room's exposed wooden beams and keep the space feeling light, offering a breezy, California cool approach.
Wall-to-Wall Wonder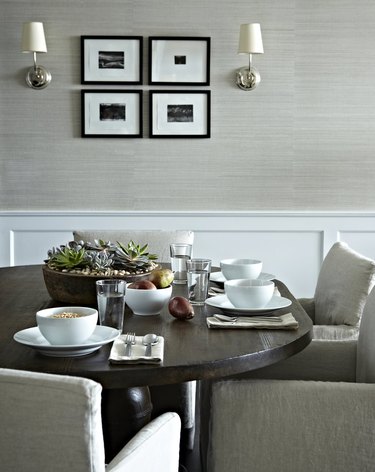 Whoever thinks a fancy chandelier is the only suitable dining room lighting idea has never seen this space from Chango & Co. Instead of investing in an expensive pendant, which may go out of trend in a few years, the interior design firm added some extra glow with these simple sconces. From its sleek, silver arms to the fabric shades, this is one dining room lighting idea that has some serious staying power.
Throwing Shade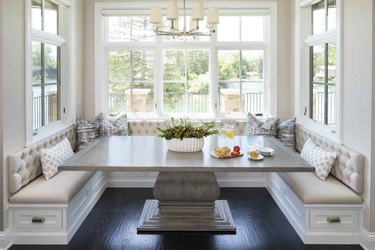 In case you didn't get the memo, shades are a major calling card for transitional dining room lighting. But while you might be tempted to experiment with fun colors and patterns — especially if your aesthetic skews more maximal — we encourage you to stick with a neutral tone. Interior designer Martha O'Hara keeps the shade-clad chandelier simple, giving this dining nook a blank, versatile canvas.
Super-Size Me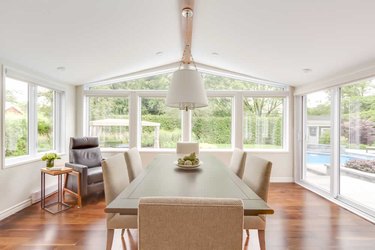 As the old adage goes, go big or go home — especially when it comes to your transitional dining room lighting ideas. Instead of settling on a bunch of smaller, shade-clad lights, turn your transitional dining room lighting into a wow factor by investing in one large pendant, complete with a fabric finish. The right pendant can draw your eye to the center of the room, putting all the focus on that warm, delicious feast. Let Hibou Design & Co. show you how it's done.
Getting Geometric
Not a fan of shades? No problem! There are plenty of transitional dining room lighting ideas to fit your space. If you want to up the ante in your dining room, take a cue from interior designer Katie Marker and opt for a geometric pendant. While the silhouette is slightly more modern than traditional, it features crisp lines and minimal hardware, both of which are popular in transitional design.
Break It Up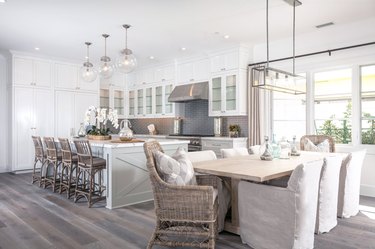 As open-concept floor plans continue to be the layout du jour, it's becoming less common to have a separate, formal dining room. If you want to carve out a dining nook in your space, let transitional lights do the legwork for you. In this West Bay home, interior design firm Blackband Design divided this open room with two types of transitional light: round pendants hanging over the kitchen island and a linear chandelier above the dining table. The silver finishes and simple silhouettes that are so popular in transitional design create cohesion, allowing both fixtures to shine on their own.
Stay Golden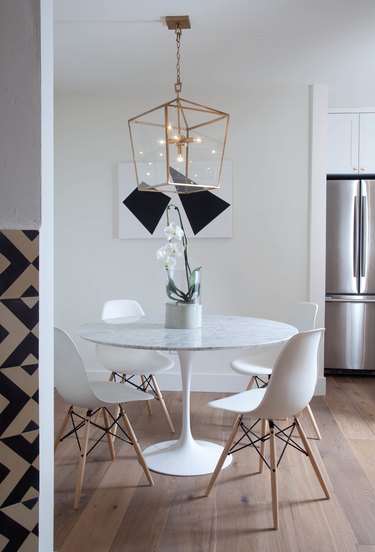 Transitional dining room lighting usually sticks to a monochromatic color palette, but that doesn't mean it has to be boring. Warm up your dining room with a gilded fixture as seen in this space from Studio Matsalla. When paired with white Eames chairs and Eero Saarinen's popular Tulip Table, this gold cage pendant brings some much-needed warmth to this midcentury modern dining room.
Curve Your Enthusiasm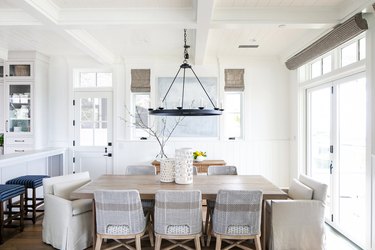 When it comes to your dining room lighting, it's about time you show off those curves. Trust us, it's the transitional way! Smooth curved lines are a key characteristic of the interior design style, striking a balance between old and new. If you don't want to embrace your curvy side with some round shades, take a page out of Kelly Nutt's stylebook and add a pared-back chandelier.
Shape Shifter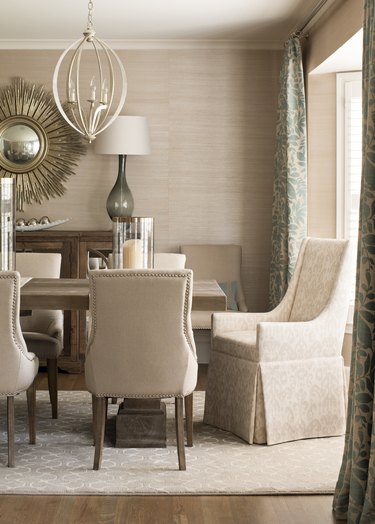 Or, if you want to take your transitional dining room lighting to new heights, opt for an oval cage pendant a la Miko & Boone Home. With curved lines, minimal hardware, and a monochromatic palette, this fixture is the trifecta of transitional lighting ideas. The Georgia-based design firm completes the room with transitional touches such as a sunburst mirror, slip-covered chairs, and a textured wallcovering.