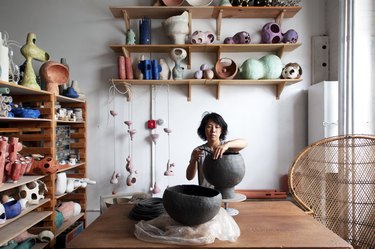 Where: Brooklyn, New York
Style: Eclectic yet homey
Yuko Nishikawa knows the value of a carefully measured, easily reproducible design when it comes to lighting and interior decor. She just wants to do something completely different.
As a furniture and lighting designer for Donghia – along with previous experience at Clodagh, Champalimaud Design, and Bilhuber & Associates — Nishikawa often created custom furniture drawings that fit into the brand's style and needs. At Donghia, she started exploring some of her own creative projects on the side — primarily ceramics.
"I wanted to make something that cannot be described in a drawing," Nishikawa tells Hunker. "For example ... irregular forms and wobbly forms that cannot be represented in math, that cannot be represented in geometric forms precisely. It's not refined, not formulated, not restricted."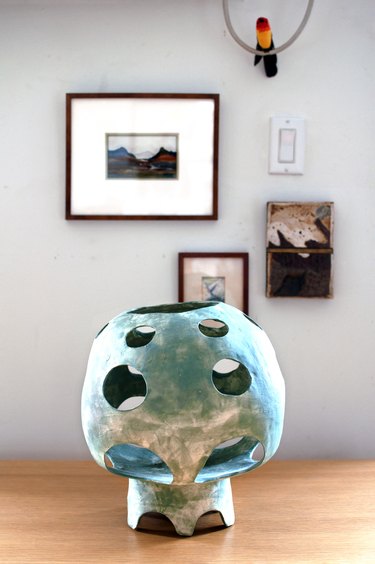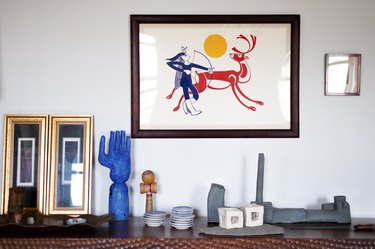 Nishikawa officially launched her own studio in 2018, and the past year kept her busy. The artist exhibited her work at Sculpture Space NYC in an exhibition called "NAP." For the show, she wanted to create "a brief midday break from the noise and clutter." The white earthenware, terra cotta, and stoneware clay pieces were largely inspired by her trip to the Olympic Peninsula, where she encountered stones created by sea bugs. She also showed her work at Olio Projects, an artist-run project space in Philadelphia, and NYC X DESIGN, where she launched a new lighting collection.
Her ceramic pieces toe the line between functional and sculptural; often, the work feels reminiscent of artists like Kenneth Price or Ruth Asawa.
The artist lives in East Williamsburg with her boyfriend — who also works in ceramics — in an apartment that's part of a three-story townhouse built in the 1900s. Nishikawa describes the ceramics community as tight-knit and generous; they often like to "exchange items and plates and little vases."
You can see these items throughout the couple's home, although Nishikawa says they often switch the objects out, creating their own personal gallery. Their "hand-built home" includes prototypes from Nishikawa's past design jobs as well as Alaskan textiles and artwork that reference her boyfriend's half Alaskan background.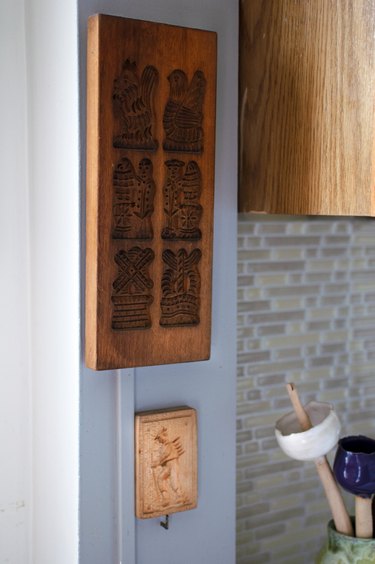 Otherwise, the couple keeps their decor pretty sparse. A lot of their furniture comes secondhand from other friends in the city who moved to a new space.
"I love making things, but [when] I make them, it's not because I want to own them," Nishikawa says. "I just want to make them. Maybe because of that, I don't really want to own things."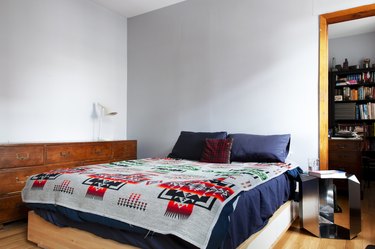 One thing, though, did play an important role when thinking about their home base: enough room to host dinner parties for the other creative people they know.
"[In] the past few months we haven't really done it, but last year we were doing [it] almost every month," Nishikawa says. "So it was important for us to have a large dining table. The apartment is laid out in a way that we can get together."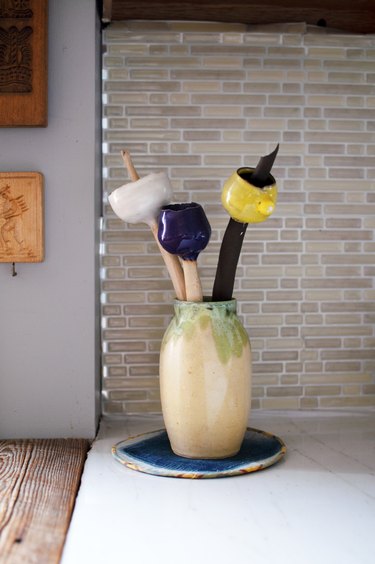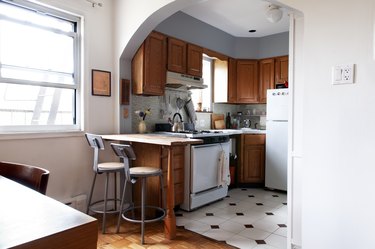 When she's not at home, you can find Nishikawa at her studio in a building that once served as the home for Sackett-Wilhelms Lithographing and Printing Co. It's also known as the birthplace of the first seedling of an idea for our modern air conditioning, according to The New Yorker. There, Nishikawa hand-sculpts and hand-builds her pieces, sometimes employing the ceramic wheel to throw certain objects.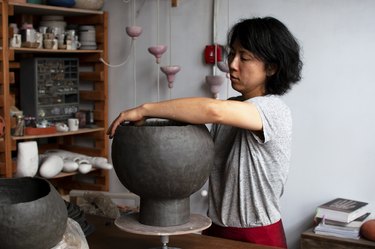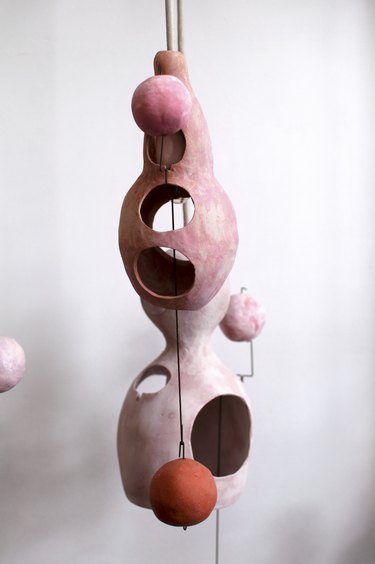 Nishikawa also uses the studio to host Salon at Forest, a free monthly talk where creative people — in areas everywhere from art to neuroscience to poetry — talk about their current projects.
"In the beginning, I wanted to have a place where I can practice speaking about my own work, because I found it difficult to do," Nishikawa says. "It's just a fun gathering … people just hear about it from friends of friends of friends."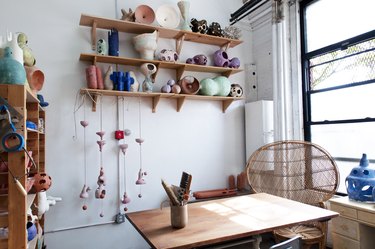 This meeting of minds makes sense when you look at Nishikawa's work. Each of her collections features an accompanying story. Courtship Behavior, for example, takes inspiration from the male satin bowerbird. Male birds often collect blue things in order to attract females.
"I write a lot, just randomly, kind of like a journal or sketches," Nishikawa says. "Not every idea comes to a project but if the same themes or thoughts come up many times, then I'm probably thinking that's the interesting thing to pursue."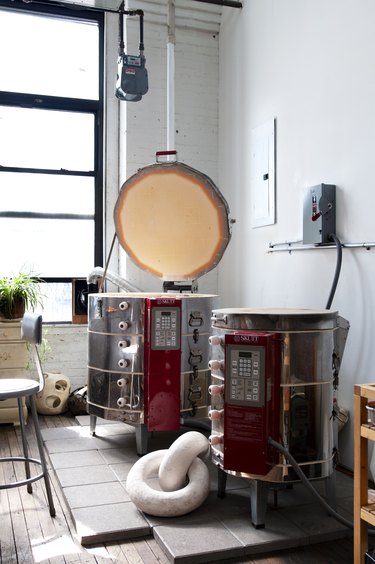 Her installations allow her to use ceramics as a means of playing with gravity and shadows. These hanging pieces cast interesting patterns on the walls and entice visitors to take them in from all sides.
With each piece she crafts, the artist hopes to bring some semblance of joy to whoever buys it. She hopes, for example, to continue making more lighting fixtures because they can be both visually engaging and practically useful — a balance she wants to communicate in her work.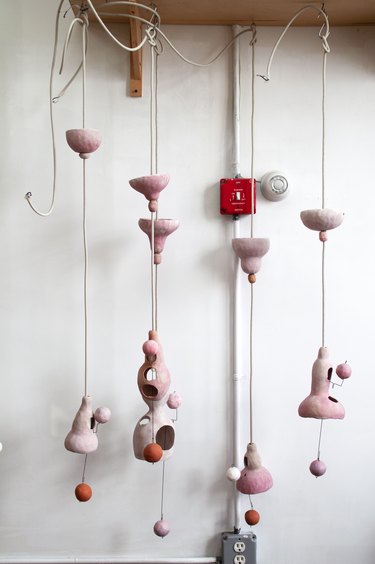 "I want them to be used like in a living environment," Nishikawa says. "I don't want them to be preciously stored in a case or something."
Although she currently works primarily in ceramics, the artist doesn't rule out using other artistic methods in the future. But the passion she felt when she first "obsessively started" making ceramics hasn't waned.
"Ceramics have so many possibilities that I feel like I'm not done yet," Nishikawa says.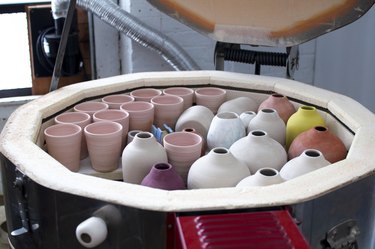 Favorite piece of design or architecture in your neighborhood, town, or city: The High Line is my absolute favorite built structure in city.
Best places for thrift store finds, antiques, or flea markets: I used to spend hours touring flea markets and thrift shops, and that would be all I would do on weekends. But I don't do that anymore mainly because I spend most of my time in my studio instead. Many places have also closed — sad! When I travel, I still like going to markets and second-hand stores.
Best farmers' market: The Farmers Market in McCarren Park in Brooklyn on Saturdays. It's a nice stroll from our apartment through the park and we get most of our grocery shopping for the week done there. You'll find everything — fresh fish from Long Island, mushrooms, vegetables, fruits, flowers, pickles, eggs, baked goods, etc.
Best happy hour: During summer months, we go to weekly cookouts hosted by our neighborhood meat shop called The Meat Hook. It's really popular, so we try to be there by the time they start at 6 p.m. to get our seats. It's still early when we finish eating so we go to a local bar called The Richardson and sip some happy hour cocktails at the outside table.
Best cheap and cheerful restaurant: The best cheap restaurant around us is a Mexican restaurant called Florentina's just around the corner from where we live. It's not fancy, but their food is consistently really great, and when both of us are too tired to cook we often order food to-go from there. I usually get either vegetable and chicken tacos with rice and beans or the vegetable enchilada with tomatillo sauce.
When my boyfriend lived in Astoria, which is north of where we are now, we used to go to Shuya Cafe de Ramen for ramen. We still go there any time we find ourselves in their neighborhood. I have tried ramen in numerous places in NYC, but nothing beats Shuya's ramen!
Best place to experience art and culture: Gather NYC has a wonderful hour-long morning program every Sunday that takes place in SoHo [consisting] of classical music, two minutes of silence, and a talk with coffee and pastries in an intimate setting. I only learned about this recently and have only gone once, but would love to make it a weekly habit.
Best coffee shop: Can I tell you about the best pie shop called The Blue Stove instead? I was not a pastry person until this place came into my life. They have seasonal fruits pies (apple pies, cherry pies, peach pies, apple cardamon crumble, strawberry rhubarb, strawberry blackberry rhubarb, apricot, pumpkin, and more) and savory pies and scones and muffins. It's just so good.
If I were to have visitors, I would take them to: The High Line, the Whitney Museum of American Art, the Lower East Side, back to Brooklyn, pies and coffee at The Blue Stove, walk to my studio, pre-dinner cocktails at The Richardson if it's nice outside, and Concord Hill for dinner. If it's Sunday we can start at 11 a.m. at Gather NYC and then end the day at Barbes to see Stephane Wrembel play his amazing Django Reinhardt-style guitar.
---
Eva Recinos is an associate editor at Hunker. You can reach her at eva@hunker.com

View Work