We know you might not be into the idea at first, but hear us out — beige can make as much of a statement as any bold color. Even though it seems traditional, beige can easily fit into more current decor styles like Scandinavian or modern farmhouse.
We've already noticed beige reemerging as a preferred hue for living rooms, so it only makes sense that dining rooms would follow suit. A few eye-catching beige dining rooms have inspired us to experiment with different shades. And there are definitely variations — not all beiges look the same.
Check out some of our favorite examples of beige dining room paint ideas:
Earthy Yet Light
This Behr tone is earthy and mixes well with darker woods. The undertones are actually a bit dark, so make sure you use it in a dining room where you get lots of light.
Cozy and Minimal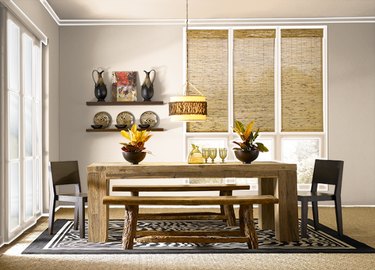 Here's another Behr shade that also looks great with natural elements — especially when mixing wood tones. The effect is warm and rustic.
Classic and Clean
Magnolia knows how to do the rustic, minimal look well by now — so there's no surprise its paint collection includes this soothing shade of beige. Add wooden dining furniture, a beige chandelier, and some greenery here and there for a chic look.
Neutral Host
Just because you're using beige paint doesn't mean you need to stick to an earthy color palette. This creamy beige from Sherwin-Williams works well as a neutral, against which you can insert pops of color.
Cool and Collected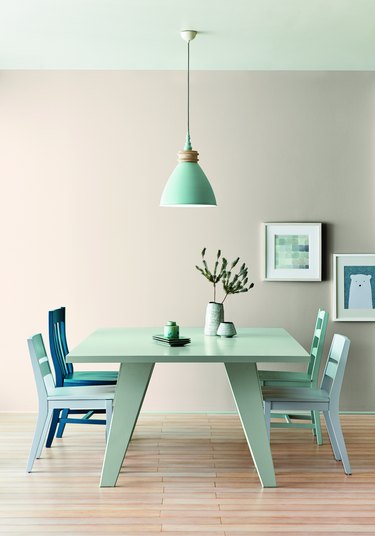 We wouldn't have thought to combine them, but Valspar's Sand Storm beige with shades of green create an artsy and inviting setup.
Modern and Eclectic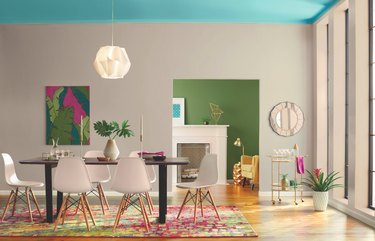 Just because you're using beige for your dining room walls doesn't mean the ceiling needs to be beige, too. Try Sherwin-Williams' Loggia on the walls and a colorful ceiling to brighten up the room.
Almost White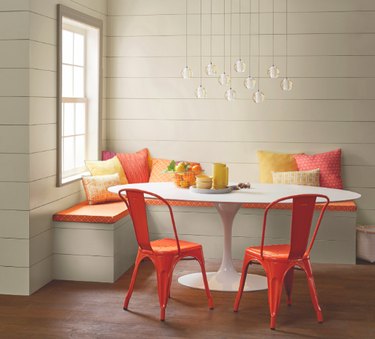 Valspar's Parlour Taupe is so subtle that you'd have to really look to realize the hue isn't in fact a cream-white but actually beige. Looks great on shiplap!