At the Sonos Home LA, we got a preview of the Symfonisk collection, a collaboration between the audio brand and the Swedish retailer. We wanted to put them to the test in a small space, and luckily I happen to live in a one-bedroom apartment that's currently cluttered with our moving boxes.
I should also add: I'm no sound expert. At the price point that IKEA is selling the speakers for — the Wifi Bookshelf Speaker retails for $99 while the Table Lamp goes for $179 — it would seem like audio lovers who are not necessarily experts are part of the target audience. Sonos speakers are legit, but they can often be outside of your shopping budget.
Both speakers come in black and white. I decided to set up the Table Lamp in our living room. It can integrate with other Sonos products and is compatible with Airplay 2. You start by installing the Sonos app on your phone and following the prompts.
A type of alien party music plays as you walk around the room to do some "tuning." This means you walk around the space while waving your phone around so that the microphone can get a sense of the background noises and acoustics. Once you finish that, you can set the app up with your favorite music streaming service.
Without even turning it to the loudest setting, I could clearly make out the riffs of "What's My Age Again?" by Blink-182 in the bedroom, where our cat perched on her tree in the corner. Again, we live in a small space, but the fact that the sound carried that far was still impressive. If you turned it up to full volume, it would sound like we were having a party.
At night, I settled in with tea and a book to test out the brightness of the lamp. It seemed a little hard to catch the full effect of the lamp from this angle; I kept moving to get more light. I also, however, have a strong prescription so it was hard to tell if I just require a lot more light than someone without glasses might — or if the lamp wasn't as bright as you might need.
The Bookshelf Speaker is meant to fit horizontally into the Kallax bookshelf. For a more industrial look, you can remove the cover on the outside. The idea is that you pair two of the speakers together and get surround sound quality at a more affordable price. You can also attach them to the wall and use them as a shelf.
I decided to clear some space above our kitchen sink to set up an impromptu dance party while cooking. Again, I live in a small space; this time, the tuning wasn't as easy to do. The app kept prompting me to start over again, and to walk around the entire space more (it probably just wanted it to be a bigger space, tbh). And the tuning music was so loud it was making the other items on my sink rattle.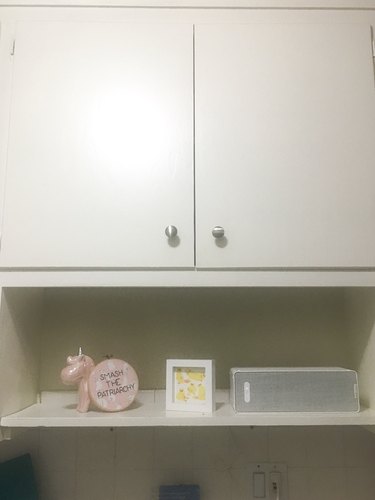 Once I go finally got it set up, the speaker definitely packed a punch. I could hear the music from the living room and bedroom.
Next, I set up the bookshelf speaker in the bedroom. Here, the sound carried a bit better. But the speaker in the table lamp sounded crisper — which might explain the price difference. It's a powerful speaker, but something about the lamp brought the songs through in a more clear and nuanced way. In a small space, you could get away with using one speaker to set the mood. Two speakers really ups the ante.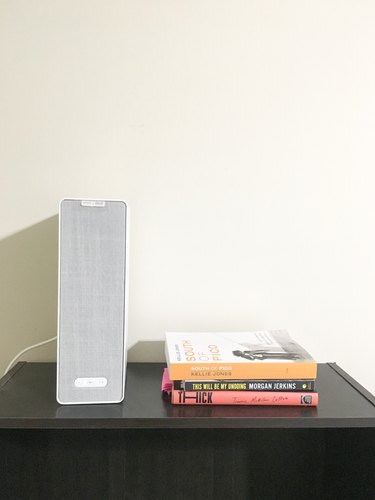 Overall, I was a bigger fan of the Table Lamp speaker because it's unexpected and could blend into your decor more easily. We had a guest over for dinner and I seamlessly turned music on while we chatted, then explained it was coming from the lamp nearby. Of course, the Bookshelf Speaker doesn't take up that much room, either — it's more of a personal preference.
The Bookshelf speakers are a good choice if you don't want to invest too much money but you want a surround sound-like system. But it made a bigger impact on me in the Sonos Home LA — which was a much larger space with higher ceilings and good acoustics.
No matter what you opt for, it's a matter of making sure you've got a strong WiFi connection and a good spot with enough outlets. I also made sure to try and keep them in spaces where my cat couldn't reach them easily.
Overall, the speakers get solid points for minimalist aesthetic, ease of installation, and sound quality. Naturally, there are elements of the sound quality that don't compare to a more high-tech system — but they are pretty darn good considering the fact that you can add them to your cart at the same store where you buy Swedish meatballs.
Check out the full collection here.
---
Eva is a Los Angeles-based writer who covers trends, news, and makers for Hunker. Her writing has been featured in the Los Angeles Times, The Guardian, Bustle, KCET and more. She is a proud bookworm and organizes her books by color.