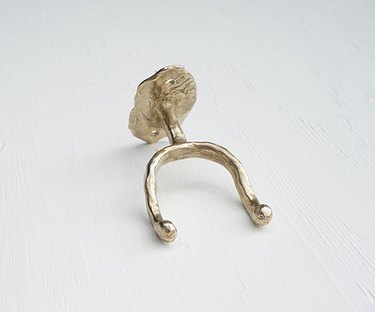 This is a story about a boy who fell in love with a girl who fell in love with a guitar hook ...
I have a personal connection to guitars — it's how I met my husband. Years ago I auditioned to be a backup singer in his rock band; we fell in love, and ended up forming our own acoustic folk pop duo, spending years touring on the road in our minivan.
His trusty Taylor guitar was a constant companion in our life, from writing new songs; to performing on stage; to campfire sing-a-longs with friends; to him composing a love song for me in the airport on the way to our honeymoon.
While our performing days are now over and parenthood has taken center stage, music is still alive and well in our home. So is that guitar — in addition to a few other six-string beauties.
Currently my husband and I are in the final stretches of a remodel on our house and one thing we know for sure is that we want to grace our living room with his guitars. They're beautiful — our kind of art. And we feel that by hanging them within arms reach (instead of out in my husband's studio) music will be played, sung, and shared at any moment with our kids, friends, and family. But those standard black plastic guitar hangers? Not exactly the aesthetic I'm going for.
So imagine my pure joy when I discovered this devastatingly gorgeous guitar hook by artist Ramsey Conder, partner of Beatrice Valenzuela — the designer behind her eponymous shoe line. (Check out Beatrice's website — she is just style.)
The hook is made from a "lost" wax casting process. I'm not sure what that means by "lost," but it sounds intriguing and special and ancient, so it makes me want it even more. The material is solid, uncoated brass, so it'll patina over time.
It looks like a work of art unto itself, and, for me, is the ideal design-worthy way to display our beloved acoustic guitars. Let the music begin.