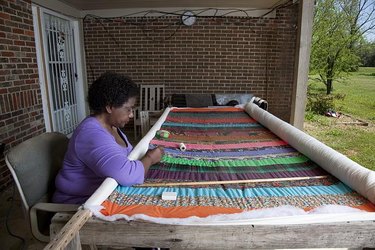 For Black History Month, we are highlighting the people and projects you should know about all year long.
"I never thought that quilt would be in [the] art world, people would think that was beautiful, that something we'd done could be shown all over the world and people get joy out of it."
Essie Pettway says these words with a twinkle in her eye to filmmaker Maris Curran in the 2018 New York Times op-doc While Yet I Live. She, like many other women in her community, has spent her time creating quilts from scraps. Each piece came together in dazzling patterns and abstract shapes, like puzzle pieces forming a tableau that instantly catches your eye. They seem to ebb and flow within their own visual rhythm, often through a bold use of stripes and squares. This style of quilt-making in the region dates back to at least the 1920s.
Gee's Bend, Alabama — also known as Boykin — is home to these incredible talented women, some alive, some deceased. Among them are Essie (along with other Pettway women), Lucy Mingo, Annie Mae Young, Nettie Young, and Mary Lee Bendolph. The rural community is tight-knit and the act of quilting is a family activity passed down through generations.
While they continued crafting these intricate quilts in the comfort of their homes, people were starting to catch wind of them — particularly around 1998.
"Soon the word spread through Gee's Bend that there was a crazy white man in town paying good money for raggedy old quilts," Amei Wallach writes in Smithsonian Magazine.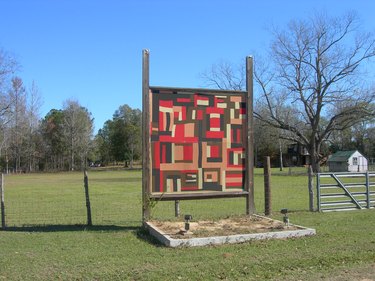 It was William Arnett, a collector who then shared photos of the quilts with the Museum of Fine Arts, Houston (MFAH). In 2002, the MFAH organized "The Quilts of Gee's Bend," which featured around 60 quilts dating from the 1930s to the early 2000s. (It's significant to note that Arnett was later sued by Loretta Pettway and Annie Mae Young; the pair accused Arnett and his sons of having "been cheated out of thousands of dollars in proceeds from their work and copyrights," as The New York Times reports).
The traveling exhibition ultimately reached audiences in cities like New York, Washington, D.C., Cleveland, San Francisco, Boston, and Atlanta. The quilts were initially deeply personal items; quilter Rita Mae explains in While Yet I Live that quilt-making was an activity she picked up to keep herself busy (and out of trouble). The quilts exist as both stunning pieces and also practical items.
"From an aesthetic perspective, you have quilters who wanted to express love for their families through thoughtful patterning and strategic flashes of color," Leslie Umberger, curator of folk and self-taught art at the Smithsonian American Art Museum tells Hunker. "And the endlessly innovative designs of improvisational quilts indicate a universal desire to make beautiful things for family members, as well as to enrich the home environment, both visually and as a place where love is made manifest through handmade things."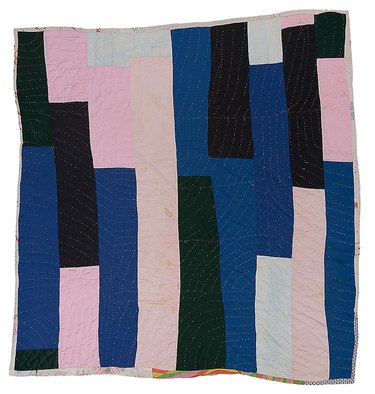 This value — of the handmade, and the sentimental — has stayed strong even in an increasingly digital age. When we get home and finally put our phones down, we crave artwork and handcrafted items on our walls and in our spaces. In 2019, Pinterest reported that searches for textile art were up by 1,718%. A search on Etsy (aka the internet's favorite handmade online marketplace) for the term "quilt" yields more than 26,000 results. You've probably noticed trendy ones like Calhoun and Co. popping everywhere on Insta. And if you want to go high-end, you most certainly can — Anthropologie carries a kids quilt for $178 and an adult voile quilt for $268 (queen size).
With an increasing focus on environmentally friendly decor (Pinterest reports searches for low-waste living grew by 446% in the past year) and DIY projects, these works are proof that the quilt-making process has been espousing these themes all along. The quilts of Gee's Bend in particular often use scraps of varying sizes, colors, and textures — sometimes from everyday items like aged blue jeans. These materials also guided the aesthetic style of the quilts.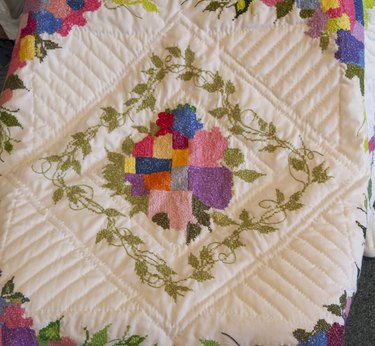 "Because salvaged pieces of fabric are inherently different than brand-new yard goods, the patterns of quilts often responded to the materials at hand," Umberger says. "The heavy or disparate weight and material composition of fabrics often thwarted fine thread and small or excessively decorative stitches, and such quilts were often made quickly, as the quilts needed to be used once cold weather set in."
The quilts also serve as a window into black culture and history, markers of a specific region and cultural tradition.
"While museums have always participated in the process of historical recovery, I think that their increased interest in the Gee's Bend quilts might be reflective of the fact that a wider range of people are now trying to make sense of current racial polarization," Dr. Nneka D. Dennie, black feminist scholar and educators, tells Hunker. "Introducing new audiences to African American art and material culture is one way to do so."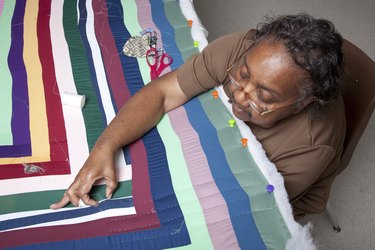 Mary Ann Pettway now manages the Gee's Bend Quilting Collective, which offers retreats with her as well as China Pettway. Attendees are guided on how to "explore the work of their hands and the spirituality of quilting," according to the organization's site.
The quilts of Gee's Bend are also a reminder that we still have work to do when it comes to what we deem as worthy of being on a museum wall. And it's not just about the objects — the quilters of Gee's Bend bring to the forefront the joy of the process itself. Their work emphasizes the feeling of making something unique out of old scraps, whether it ends up on a relative's bed or a museum wall.