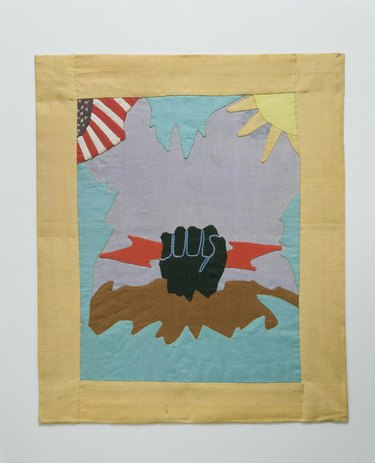 For Women's History Month, we are highlighting the people and projects you should know about all year long.
Quilts lead a double life, of sorts. They're art pieces — which have made their way into museum collections — but are also utilitarian objects to have at home. They have a long history but also a contemporary significance. The quilts of Gee's Bend, for example, are now sold on Etsy. Artists like Bisa Butler, who currently has an exhibition at the Art Institute of Chicago, are exploring where the form can go next.
During her lifetime, Ruth Clement Bond spent her time being an educator and civic leader — and also a quilt designer. Her story highlights how quilt-making intersected with social issues.
Born in 1904, Bond received two degrees (a bachelor's and master's) in English literature and taught at universities in numerous countries. She also headed the department of English department at Kentucky State College, according to the ​New York Times​.
When the Tennessee Valley Authority (TVA) started construction of the Wheeler Dam in 1933 — as part of the New Deal — her husband accepted a position as a supervisor. They relocated to Muscle Schoals, Alabama but, as a Black woman, it was impossible for her to pursue a doctorate degree like she hoped to because of segregation, Angelik Vizcarrondo-Laboy, Assistant Curator at the Museum of Arts and Design, tells Hunker.
"In part, she likely would've been bored," says Vizcarrondo-Laboy. "Somebody who was used to being in school is coming to somewhere where she can't go to school, so she did have to find a different outlet for her creativity — for whatever she was thinking — so then she took it upon herself to create the community projects and build relationships with the women in the town."
Vizcarrondo-Laboy says that Bond came "from an affluent family" and saw a stark contrast in the homes of the workers' wives in Muscle Shoals. She started the "process of beautification for the homes" by bringing these women together to create. They made "cushions out of potato sack fabric" and dyed textiles. She says that Bond was the "idea maker" for the quilts, designing the patterns and layout, which the women then turned into quilts.
According to the ​New York Times​, the women had created around six quilts by 1934. The Museum of Arts and Design includes the name of one quilter, Rose Marie Thomas, in its record, but there's little research on her or the other quilters. Vizcarrondo-Laboy predicts that "there were more names in terms of makers that haven't been recorded."
One quilt design is especially significant because of its title: ​Black Power​. A 2005 obituary in the ​Washington Post​ includes some of Bond's comments on the piece: "Our first quilt we called 'Black Power,' ... That was a pun, of course, TVA being about power. The first quilt showed a bolt of lightning signifying power, held in the hand of a Black worker." Vizcarrondo-Laboy says that "her husband had young Black men working for him who took it as a metaphor of their own power as a community." But Bond also said: "The only thing I was trying to say was that things were opening up for the Blacks in the South."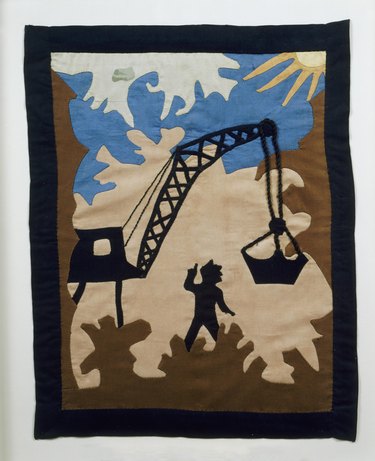 A "very proud scholar," Bond would ultimately go on to do so much more. But the quilts play a major role in how she's remembered.
"She lived to 101 which is amazing," Vizcarrondo-Laboy says. "She had an incredible life, she did so much. And actually the quilts, funnily enough, it's what she's most remembered for, but it's actually kind of like a blip in her life."
That quick moment, however, leaves us with a record of the time — and a chapter in the evolution of quilt design. It's important to note how Bond created in a figurative manner, versus a pattern or floral style, explains Vizcarrondo-Laboy.
"Because of Ruth Bond's own remarkable story and the significant contributions that members of her family made on behalf of African and African Americans, this quilt serves as an invaluable resource for teaching and research," the museum writes, in reference to the acquisition of a new quilt. There's currently another quilt hanging in the TVA building in Knoxville, Tennessee.
"Without knowing, she was sort of tapping into a long history of craft as social activism and it's something that has a legacy," says Vizcarrondo-Laboy. "And something that so many artists nowadays... [are] tapping into as well. They're using fiber and images or the pieces they create in fiber to talk about all different types of narratives whether it be race, gender, the environment, [or] LGBTQIA issues."
There are still so many other stories to uncover and highlight in the history of quilting.