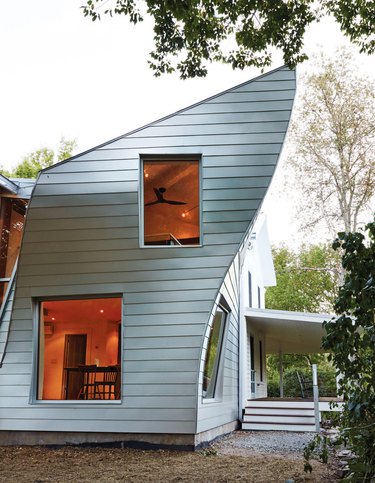 When you think of a rustic 1950s farmhouse in rural Pennsylvania, what comes to mind? To most, a farmhouse evokes thoughts of comfort, coziness, and charm. However to designer Tom Givone of Givonehome, it was curved walls.
When Givone first arrived at the house, the original architectural details of the home were overshadowed by unfortunate decades-old renovations. "It was a lot like other similarly aged homes I'd seen that had been updated over the years," Givone says. "The '70s called and wants its linoleum back. But I knew that the good stuff, like original wide plank floors and hand hewn beams, was lurking beneath all those layers."
While the designer's first order of business was to bring the house back to its original condition,"The second was to turn it on its ear," says Givone. Without crafting a new design steeped in antiquarianism (a common direction in many preservation projects), Givone chose to give the architecture a thoroughly modern and surrealist twist. Literally. The new feature: five curving columns that form the skeleton of the home's new addition.
With the help of JRA Architects in Scranton, Pennsylvania (Givone splits his time between New York City and the Catskill Mountains), they fabricated the columns for the framework by sourcing materials from a Chicago steel company that usually specializes in building tracks for roller coasters. Within 18 months, the project was complete, curves and all.
---
After interning at Dwell magazine in San Francisco, Kate began writing about arts, design and culture for other national publications. She is based in Los Angeles and San Francisco.
View Work