Things You'll Need
Stud finder

Measuring tape or ruler

Screw driver

Hammer

Cup hook
Tip
Only hang lightweight mobiles above baby cribs and child beads.
Warning
If there's no stud above your baby's crib or child's bead -- which provides ample strength to keep a mobile from falling -- don't hang the mobile in that location.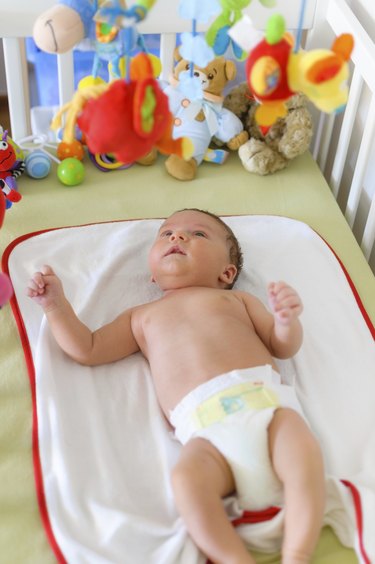 Parents often hang mobiles over their babies' beds, said to help develop their vision. They also tend to have a soothing effect on babies, keeping them quiet and visually engaged for hours. A mobile also can be a nice addition to a sun porch or patio. Mobiles come in all styles and sizes and can be adapted for a variety of locations.
Step 1
Plan the placement of your mobile before you start making holes in the ceiling. You need to make sure that the mobile will not be in a walkway where it can hit people in the head. Measure your mobile so that you can place the hook far enough out from nearby walls for it to hand freely.
Step 2
Locate a stud in the ceiling where you intend to hang your mobile with a stud finder, and mark the spot with a pencil. Start a hole in the stud with a screw and screwdriver or a hammer and nail. Then, screw in a cup hook.
Step 3
Use an anchor hook if you do not have a beam in the exact place you chose to hang the mobile; avoid using the anchor method altogether if installing a mobile over a baby's crib. Drill a hole and push the anchor through it. The gripping sides will spread once it is through the hole.
Step 4
Turn a hanging planter bracket into a source for your mobile if you do not want to hang it from the ceiling. Place the bracket high on the wall with the two screws that come with the bracket. Hang your mobile off the end.
Step 5
Hang the mobile from the edge of the baby's crib. Many baby mobiles come with a long pole which will raise it high enough so the baby can't pull it down and low enough to see it.