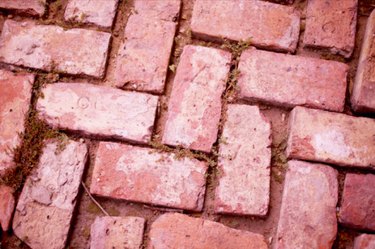 When adding a porch to your home, concrete provides a low-cost, durable building material. However, it does have an unattractive, drab appearance, and over time it may begin to chip, crack and show other signs of wear and tear. Fortunately, you don't have to rip out your porch and build from scratch when you get tired of the look of concrete. There are various options for covering a concrete porch floor to give it an elegant, polished look and breathe new life in your home's exterior.
Stamped Concrete Overlay
If you want to cover a concrete porch, a stamped concrete overlay is an attractive option. Concrete overlays are ideal for hiding concrete surfaces that have faded, chipped or experienced other surface damage. Using a stamped overlay allows you to choose a decorative pattern for the new surface, including brick, wood, flagstone, slate or other natural materials. Installers use a gauge rack to apply the overlay mix, which ensures a uniform thickness across the topping. They use a texturing skin or stamping mat to create the pattern on the surface of the overlay. You may also opt to have your stamped overlay stained or dyed to give the concrete pattern a more realistic look.
Slate
If you prefer the look of natural stone, slate is an ideal option for covering your concrete porch. Slate is an extremely durable stone and boasts an attractive, elegant appearance. It is available in several colors, including gray, black, blue, green, red and purple, so you can choose a shade that complements your home's exterior. Installing slate tile can be done by most homeowners to save money. The finished look creates a stylish, subtle look for your porch that will last for years.
Interlocking Tile
Interlocking tiles are one of the easiest ways to cover a concrete porch, so even inexperienced do-it-yourselfers can tackle the project. The tiles are available in a variety of styles and materials, including stone, wood and composite materials. However, unlike with traditional tile products, you do not need special equipment or fasteners to install interlocking tile. The drawback to these tiles is that they are more expensive than standard lumber products, but you can save money on installation.
Brick Pavers
Brick pavers are fairly labor intensive and time consuming, but can create a classic look for your home's exterior. Set the bricks in a layer of mortar mix, and make sure you lay them straight. When you finish a row, sprinkle a 60 to 40 mixture of sand and concrete into the joints between the bricks and sweep the surface to make sure the joints are filled. Cover the finished surface with a brick sealer product to help preserve your porch's look.