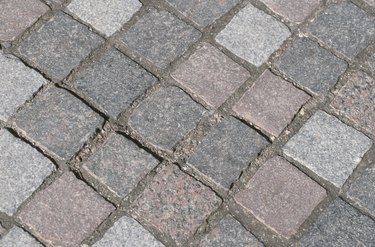 A patio adds valuable square footage to your home, serving as an outdoor living area. If unattractive and cold cement covers your patio, however, you may be less than excited to create a living area on the space. Turn your lackluster cement patio into a more inviting space by covering it to make it more visually appealing. Several options are available.
Step 1
Paint your cement patio. Paint is an inexpensive and simple way to make an ugly cement patio more appealing. Use a power washer to clean the patio surface and sweep away any debris. Select a color of exterior latex paint and apply it to the surface. If you're painting the patio one color, apply the paint with a roller. If you wish to create a design with the paint, use hand-held brushes to paint the patio.
Step 2
Tile the patio. Tiles made of natural materials, such as slate, sandstone or travertine, as well as ceramic tiles, can be used to resurface an ugly cement patio. Select a type of tile that suits your taste. Apply tile adhesive to the surface. Set the tiles into the adhesive and once dry, apply grout between the tiles.
Step 3
Conceal the cement patio with modular wood tiles. These interlocking wood tiles are specifically made for use as an outdoor floor material. Select a style and finish, lay them out over the surface of the cement patio and lock them into one another, creating a non-permanent and attractive patio floor covering.
Step 4
Lay pavers. Spread a coat of paver base on the patio, leaving about 8 inches of the perimeter of the patio free of the paver base. Set the pavers on top of the paver base. Apply mortar to the exposed cement around the perimeter of the patio and set pavers directly on top. Spread polymeric sand over the pavers and spray water over the sand to set it.