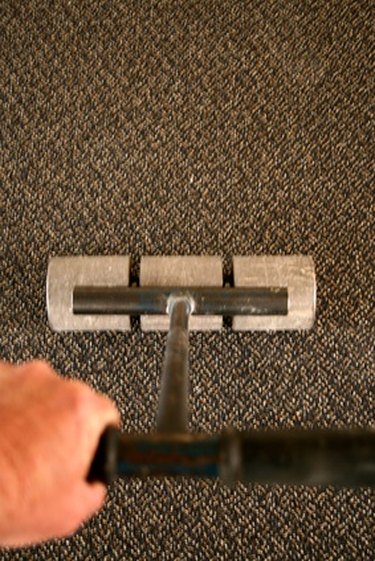 Berber carpets are available in both natural fibers and synthetic. Because of their durability, Berber carpets are well suited for high-traffic areas. Over time, these carpets can become dirty and dingy. There are many all-natural methods that you can use to keep your Berber carpet clean without using expensive and harsh chemicals. Whichever carpet cleaner you choose, vacuum the carpet first to remove the surface dirt.
Vinegar Cleaner
Step 1
Mix equal parts distilled white vinegar and water.
Step 2
Pour the solution into a clean spray bottle.
Step 3
Spray the solution onto the stained areas of the carpet. Allow the solution to sit for 15 minutes.
Step 4
Fill a bucket with warm water. Add a few drops of a mild dish detergent to the water. Stir the mixture together with a spoon.
Step 5
Dip a brush or sponge in the mixture and scrub the stained area clean. Allow to air-dry.
Heavy-Duty Cleaner
Step 1
Combine 1/4 cup of borax, 1/4 cup of white vinegar and 1/4 cup of table salt to create a paste.
Step 2
Rub the paste into the carpet using a damp cloth.
Step 3
Allow the paste to sit on the carpet for several hours.
Step 4
Remove the paste by vacuuming.
Foaming Cleaner
Step 1
Create a solution of 2 cups warm water, 1/4 cup of mild dish detergent and 2 tbsp. of white vinegar.
Step 2
Whip the contents into a stiff foam using a whisk.
Step 3
Work the foam into the carpet with a scrub brush.
Step 4
Allow the carpet to dry thoroughly and then vacuum.
Removing Grease Spots
Step 1
Sprinkle cornstarch on the grease to absorb the grease.
Step 2
Allow the cornstarch to sit on the grease spot for 30 minutes.
Step 3
Vacuum the cornstarch. Repeat the process until all grease spots are gone.