Squeaky is all about the borderline genius hacks and ideas that keep literally every inch of your space pristine.
Never worry again about wine spills, muddy shoes, doggie accidents, or really any other mishap that might happen on your beautiful carpet. These homemade solutions will come to the rescue, no matter what your needs are, from deep carpet cleaning to a simple weekly refresh.
Homemade Washing Solution for Carpet Cleaning Machines
Need to do a deep cleaning? Rent an industrial carpet cleaner from your local home improvement store (unless you happen to own one) and give your carpets a chemical-free washing. You can make this solution in mere minutes, and it'll leave your home smelling like fresh laundry after each use. GET THE RECIPE
Dry Carpet Powder for Everyday Cleaning
Unpleasant smells don't stand a chance with this all-natural dry carpet cleaning powder. Baking soda is the MVP of this formula as it easily absorbs odors, but it's the essential oils that'll give your carpets a fresh springtime scent. GET THE RECIPE
Carpet Cleaner for Stubborn Stains
Listen, this may be a chemical-free DIY recipe, but this carpet stain remover legit works. If you have a spot or stain you need to address, try this. GET THE RECIPE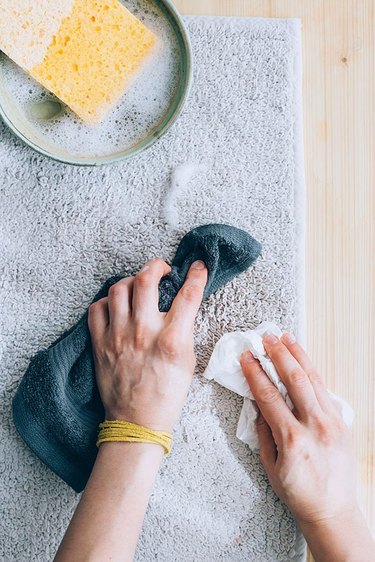 ---
Laurie Gunning Grossman, Hunker's editorial director, caught the California boho minimalist bug. So, she bought a cream-colored couch. And she also lives with two kids and two dogs, so we'll see how that decision pans out.