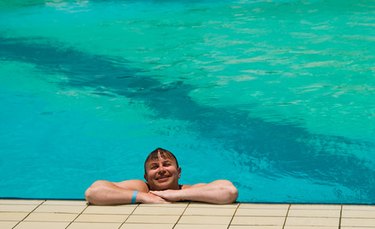 Installing a swimming pool is a great way to create your own relaxing "summer vacation" spot right in your own backyard. However, choosing the right size pool for your needs is the most important task before the contractor starts digging. Installing a pool is a big investment, so take time to determine exactly how much space is available and how you want to use your pool before you start shopping.
Step 1
Measure the area where the pool will be located. Determine what will need to be done to clear a space for the pool. Questions to consider include: Will you need to level the ground or build retaining walls? Will you need to install a sump pump to control groundwater? Will you need to remove any trees? Are there any buried sewer, telephone, electric or cable lines in the space where you want your pool?
Step 2
Choose a large pool in a classic rectangular shape for serious swimmers who swim laps for exercise. Consider a 20- by 40-foot size with a 9-foot maximum depth and 3-foot shallow area. This size is also ideal for people who want to entertain large groups at poolside parties.
Step 3
Select with an 18- by 36-foot pool for a household of six to eight people. This size allows plenty of space for swimming shorter laps, floating on inflatable rafts and playing games in the pool. Consider an oval shape as a decorative alternative to the classic rectangle.
Step 4
Install a moderate size pool of 16 by 32 feet for a household of four or fewer. This size allows enough room for small groups to share the pool for casual swimming, games and simply cooling off on a hot day. Kidney-shaped, figure eight and octagon are typical design styles for this size of residential pool.