The Delta Faucet Company, a division of Masco Corporation, manufactures Peerless brand faucets. In most cases, both Delta and Peerless, faucet repair parts are interchangeable. Until 2010, Delta and Peerless used the same ball, seat, and spring combination as their primary operating mechanism. In 2010, Delta distanced itself from Peerless by switching to a new cartridge technology. Peerless faucets remain as a quality utility faucet for the professional and homeowner alike. Repairing a Peerless faucet is fast, easy, and affordable. The average cost for a Peerless rebuild kit as of 2010 is around ten dollars. The normal repair time is about an hour for the novice, 15 minutes for a proficient do-it-yourselfer.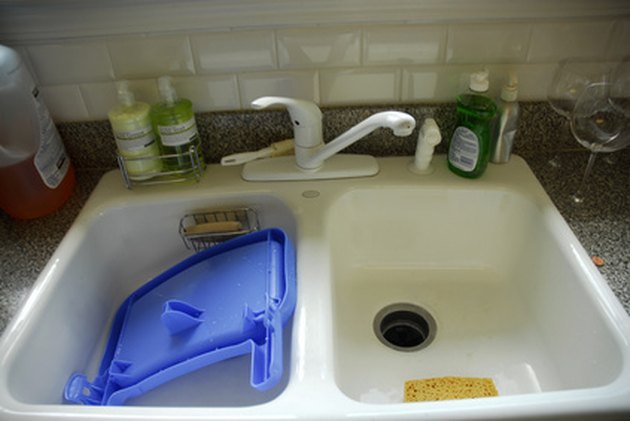 Step 1
Remove the handle's setscrew with the 1/8-inch Allen wrench supplied with your faucet. Lift the handle off the ball stem.
Step 2
Use needle nose pliers to loosen the plastic adjustment ring under the handle. Open the pliers, set one point in each grove of the ring, and turn it to the left.
Step 3
Unscrew the faucet's bonnet cap by hand.
Step 4
Pull the ball assembly out of the faucet by lifting the ball stem straight up.
Step 5
Replace the faucet's seats and springs using needle nose pliers.
Step 6
Reinstall the ball assembly by lowering it into the faucet while lining up the ball guide groove with the guide in the faucet's body.
Step 7
Replace the bonnet cap securely by hand.
Step 8
Tighten the adjusting ring by turning it to the right with needle nose pliers.
Step 9
Slide the handle on the ball stem.
Step 10
Lock the handle in place by turning the setscrew to the right tightly.