A wide variety of local and national companies provide bathtub liners and shower remodel services. Products offered include liners placed over the existing tub and walls or special sprayed-on coatings to create attractive bath surfaces. Pricing will vary for the services offered and are affected by regional price influences. Companies providing liners for the bath area advertise the ability to have installation completed in one day. Refinishing requires two to three days for completion, as more preparation and sufficient drying time of the coating are necessary for best results.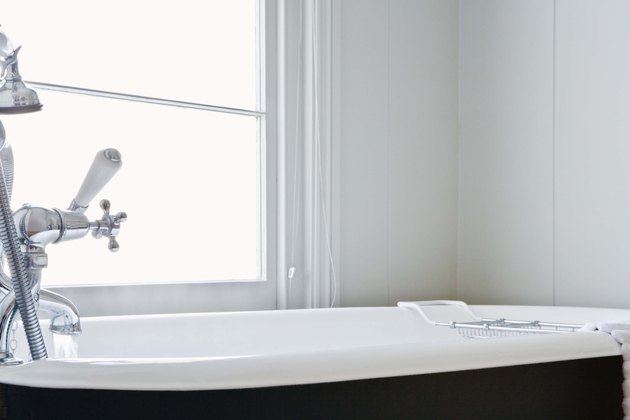 credit:
Jupiterimages/Polka Dot/Getty Images
Liners for the shower, bath tub and tub surround are available at major home improvement stores. Acrylic panels and trims are easy to cut with shears or carpet knives for fitting around windows or architectural angles.
Do-it-yourself bath liner kits include all pieces to complete a bath rejuvenation project except for new plumbing hardware. The kits are sized to fit standard bath areas with simple assembly and easy to use adhesives.
Do-it-yourself Refinishing
Do-it-yourself refinishing is a great alternative to a bathtub liner. The primary expense is an affordable, specialized paint product designed to re-coat bath tubs and tile or acrylic walls. Refinishing gives the bath area new surface for a clean uniform look and easy maintenance. Refinishing requires a lot of preparation work to be sure that the new finish will adhere properly and be free of blemishes.
The product used in refinishing is a two part system that when mixed together is applied like a paint. Spraying the product on to the bath area with a paint sprayer provides smoother and faster application. To brush the product on the bath surfaces, a very soft fine bristle brush is required to limit the visibility of brush strokes.
Colors for refinishing products found on the hardware stores shelves are limited to white and almond. Major paint retailers who carry their own brand of refinishing products have the means to tint the coating with décor complementing colors.
Tool rental locations lease paint sprayers at less cost than purchasing a sprayer for a single use job. The staff will explain how to use and clean the sprayer.
Follow all manufacturer instructions for installation of their specific products. When using any paint or adhesive product always work in a well ventilated room.