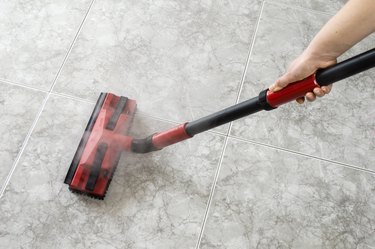 Steam mops like the Bionaire 22499 create steam to disinfect and sanitize without the use of harsh chemicals. The steam mop is marketed as safe to use on all hard surfaces, but it's best to avoid using a steam mop on wooden floors unless they have been properly sealed. This unit comes with two rectangular quilted cleaning pads and a shaggy duster. The included pads and duster are removable for regular cleaning in your washer and dryer. The Bionaire Steam Mop plugs into any typical household outlet and takes just moments to heat up and create steam.
Step 3
Attach one of the rectangular, quilted cleaning pads that come with the mop to the mop stick. To steam mop a sealed hardwood or laminate floor, use the included Bionaire shaggy duster pad instead of the quilted cleaning pad.
Step 4
Fill the mop reservoir tank with tap water, and plug the steam mop into an electrical outlet. Give the mop a couple of minutes to heat up and produce steam.
Step 5
Mop the floor using a back and forth motion, pressing the steam button when you reach stubborn dirt or one of the areas you previously sprayed with cleaner. Just as you do with a traditional mop, start in the farthest corner of the room and work your way out. This will keep you from having to walk on the floor before it dries.
Step 6
Unplug the steam mop, and allow it to cool. When it has, remove the cloth cleaning pad and toss it in the washing machine. Wash and dry the cleaning pad before its next use.