If your door won't close properly, check the hinges. The most common problem you'll find is that the screws on one of them have worked themselves out and the loose hinge is making the door sag. You can fix this by tightening the screws. Another problem you might find is that the jamb itself isn't level and this is causing the door to lean. You could take the door down and reset the jamb, but there's an easier way to get the door working, and that's to shim out one of the hinges. This will work if the gap difference between the opposite jamb and the top and bottom of the door is less than about 3/8 inches. If the gap is more than that, you probably need to reset the jamb.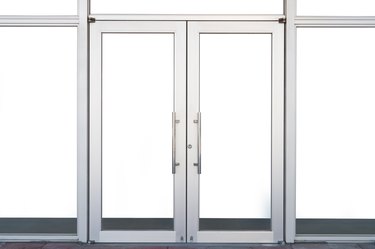 Find a Shim That Will Work
You can determine the thickness of the shim you need by accurately measuring the gaps between the top and bottom of the door and subtracting the measurements to find the difference. You'll get a more accurate measurement by using a ruler instead of a tape measure. When it comes to the shim material, thin cardboard is probably the best choice. It won't split when you drive screws through it, and it won't compress when you tighten the hinge screws. You can increase the thickness of the shim by layering pieces of cardboard on top of each other.
Premade Shims
If you prefer, you can buy premade shims to fit the hinges on your door. These are pre-drilled and are easy to use. You can stack two of these to increase the shim thickness. They are the best choice for steel doors and heavy entry doors.
How to Install a Shim
You can install a shim between the hinge and the jamb or between the hinge and the door – or both. But whichever way you choose, you'll have to do it while the door is open. Wedge a piece of wood under the door to support it and prevent it from moving while you unscrew the hinge.
Remove the screws from the hinge you need to shim, using a screwdriver or a drill and screwdriver bit. If the door has three hinges, remove the screws from the middle hinge as well. Slide the shim behind the hinge that needs the extra spacing, then drive the screws back in tightly and check the operation of the door. Add or remove cardboard as needed to get the door straight.
Leave the middle hinge unattached while you make these adjustments. Once the door is straight, you can drive the screws back in to reset it. The door shouldn't go off-level when you do this, but if it does, you may need to shim out the middle hinge as well. Use a shim with half the thickness of the material you used to shim the other hinge.