Things You'll Need
Curtain panel

Tape measure

Straight pins

Drapery pins
Tip
Thin fabric curtains or curtains with short headers do not work well with drapery pins. Sew a header (buckram) to the top backside of the curtain to compensate and pin the drapery pins into the header.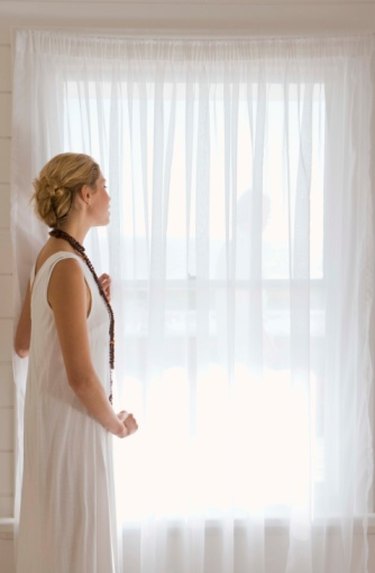 Drapery pins are a type of metal pin that is bent into a shape and appears somewhat like a mixture of the small letter "n" and "s." The hook of the pin is designed to hang upside down like an "n," and the tight, flat and pointed side of the pin is shaped to slide upward into the fabric. This allows the hook to attach to the curtain rod using the slides of a traverse rod or the loops of other curtain attachments. While drapery pins are most often used behind pleats on pleated draperies, they are also used on non-pleated panel curtains. It is a good idea for the curtain header to be sturdy and lined when using drapery pins.
Step 1
Position your curtain panel face down on the work table.
Step 2
Measure and pin 3 inches from the top edge (with straight pins). Pin across the top every 4 inches.
Step 3
Measure the width of the curtain panel just under the pins. Position your first drapery pin 1 inch from the side edge of the curtain panel. Slide the pointed tip of the drapery pin into the fabric, level with the pin line. Do not allow the tip to go all the way through -- you only want to pierce the lining and back part of the header fabric.
Step 4
Slide the tip vertically toward the top about 1/2 to 3/4 inch down the fabric and then pierce the header and lining fabric with the tip. This means the tip will go in and come out on the back side of the header and be invisible on the front of the curtain. Pull the drapery pin up until the tight loop at the bottom of the pin is tight against the pin line and fabric. Repeat this for the other side of the fabric.
Step 5
Measure between your two drapery pins and divide into an even spacing. This should be between 5 and 7 inches apart. Attach your drapery pins along this even spacing. Remove your straight pin line once your drapery pins are all attached.
---
F.R.R. Mallory has been published since 1996, writing books, short stories, articles and essays. She has worked as an architect, restored cars, designed clothing, renovated homes and makes crafts. She is a graduate of the University of California at Berkeley with bachelor's degrees in psychology and English. Her fiction short story "Black Ice" recently won a National Space Society contest.