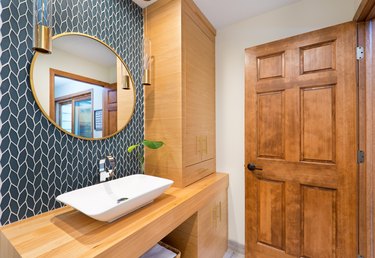 Bathroom mirrors are a main focal point in any bathroom. When chosen correctly, the mirror can make the space seem larger and can add a touch of décor all in one item. If you select the wrong size for your bathroom mirror, then you may not achieve the eye-pleasing aesthetic you may have been going for. So, what mirror size should you get for your bathroom? It may seem like the options are endless, but with a bit of direction, you can guarantee you will purchase the right mirror for the space.
Select Bathroom Mirror Size
Before you begin any shopping, it is important to determine what size you need your mirror to be. A general rule of the thumb is to measure your vanity and subtract about 4 to 6 inches. The vanity consists of the countertop that holds your sink along with any storage that may be integrated into the countertop, such as drawers or even mounted cupboards on the wall. Vanities can vary greatly in size, so this general rule works mainly for smaller bathrooms where the vanity is much smaller as well.
If you are dealing with a smaller bathroom, then removing a few inches from the length of your vanity should give you the best bathroom mirror size for the space. If you have mounted storage on the walls and are trying to install a mirror in the space between the cupboards, then the same rule applies. Measure between the two cupboards, then remove 4 to 6 inches; your mirror should not end up touching either storage space and should be mounted in the center of free space.
Sizing Different Bathroom Mirror Shapes
Bathroom mirrors do not only come as a basic rectangle. You can purchase practically any shape of mirror that best works for the space and your personal décor preferences. However, if you choose a more unique shape for your mirror, the sizing issue arises once again. If you are purchasing this mirror to hang above the sink, then make sure it is large enough to use for all of your daily needs.
If selecting a circular or oval-shaped mirror, a popular width would be about the width of your sink or slightly wider. Selecting a bigger size can work as well, just make sure that it does not pass the length of the vanity. Once the mirror becomes longer than the vanity, the proportions begin to get thrown off in the entire bathroom, giving the final result an unappealing look.
Mirror Sizes for Large Spaces
Selecting the right bathroom mirror should not be a difficult task, even when selecting one for larger rooms. Master baths can often be large with double-sink vanities. If you are dealing with double sinks, then the best option is to opt for two identical mirrors that follow the aforementioned sizing rules.
Do not exceed the width of the vanity. Select a size that appeals to you and is around the size of your sink width. Just because you have a larger wall surface does not mean that the entire wall space needs to be filled with the mirror. Adding two mirrors side by side gives a more proportional finish and leaves extra wall space for other décor touches, such as small shelving or art pieces.