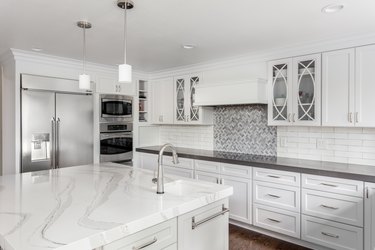 Although custom sizing is always an option, sticking with a standard kitchen countertop depth is the best choice for keeping the remodeling project within a reasonable budget. Kitchen base cabinets and even some appliances are designed to go along with a standard counter depth of 24 to 25 inches; too much variation from that and you may find yourself needing to purchase custom cabinets as well.
Standard Kitchen Countertop Depth
The typical kitchen countertop is 24 to 25 inches deep, depending upon the manufacturer or the shape of the countertop piece. Some countertops with an integrated back splash and rolled front edge may be a little larger, such as 25 1/2 inches deep, when measured from wall to front edge.
In any case, the average off-the-shelf kitchen countertop slab in this size range pairs with a standard kitchen cabinet depth of 24 inches for base cabinets. The extra inch or so allots for an overhang above the cabinets, which helps prevent spills and debris from getting into the top of the base cabinet. If purchasing a new countertop to go atop your existing cabinets, measure the base cabinets from back to front to ensure they're a standard size.
Sticking with the Standard
Although a deeper countertop may seem like a good idea for a large kitchen, as the extra depth means extra surface area for food preparation, straying too far beyond 25 1/2 inches amounts to lots of wasted space. The average person, unless quite tall, will have trouble accessing the farthest areas of a 36-inch-deep kitchen counter, for instance.
Likewise, choosing a shallower-than-normal countertop may make it difficult to find base cabinets that suit it, unless highly modified. If you need base cabinets that are less than 24 inches deep, such as for makeshift bar in the back of the kitchen, check the bathroom vanity section at your local home improvement store or look specifically for a wine bar or wet bar. Any of these cabinets can resemble kitchen base cabinets and may suit a small space requiring just a cabinet or two.
Counters for Kitchen Islands
Countertops for kitchen islands are a bit different, in that the countertop size varies greatly depending upon the island's size. The ideal depth for an island countertop depends upon the function and size of the island. For instance, an island with a sink or cooktop plus for seating room may be considerably larger than an island set up like a breakfast bar in a somewhat small kitchen.
Since kitchen base cabinets are sometimes used to build islands, a standard 25 inches of countertop depth may suit the island, although many island countertops are 27 inches deep, according to Marble.com. Expect to add another 12 to 24 inches of countertop space for an island used for dining or even more for a considerably larger island that includes a sink, cooktop and seating area.
Big-box home improvement centers offer premade kitchen islands in narrower sizes, such as 18 inches, with countertops that have very little overhang. Some of these compact islands also offer optional wheels to turn the island into a cart that can be wheeled out when needed.