Whether remodeling a kitchen or building one out from scratch, cabinet measurements matter. Cabinet depth, for instance, has a huge impact on whether a wall or base cabinet suits the space near the refrigerator or oven chosen for the room. If the cabinets are too shallow, nearby appliances protrude in ways that just don't work well with the visual flow of the kitchen. Thankfully, many cabinet manufacturers stick to dimensional standards while also offering a few ready-made variations.
Kitchen Base Cabinets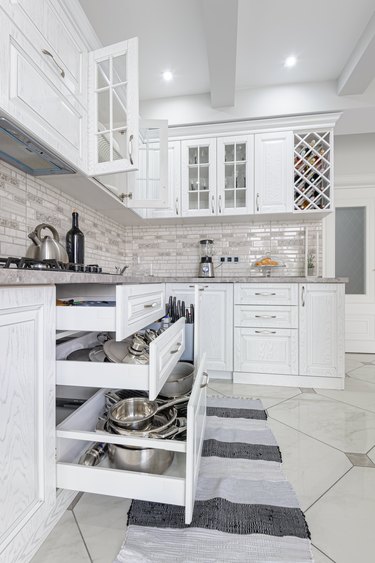 Kitchen base cabinets— the cabinets that reach from floor to countertop—are among the most important when it comes to depth. Base-cabinet depth factors into how much available floor space is left after installation. These cabinets should also be at least as deep as any large appliances that aren't being replaced. The typical kitchen base cabinet, without a countertop, is 24 inches deep. Because countertops overhang the base cabinets slightly, the overall depth will add another inch or two to this 24-inch cabinet measurement.
Other common base cabinet widths include 12, 15 and 18 inches deep, common in awkward spaces and in rooms where space is at a premium. In some cases, base cabinets may be up to 30 inches deep, but this can make it a bit difficult to reach the back of the countertop or the wall outlet above the counter. This should also be considered if purchasing a new refrigerator or oven at the same time you are adding cabinets; any item too deep could be an issue when it comes to cleaning.
Kitchen Wall Cabinets
Kitchen wall cabinets also follow standard depths, allowing several standard sizes. The most common size is 12 inches deep, yet 15 inches is becoming more common, popular because it offers more storage space. The cabinet placed above a refrigerator is often 24 inches deep, making it much easier to reach from ground level than shallower cabinets that set back from the front of the refrigerator.
Pantry Style Cabinets
Tall kitchen cabinets designed specifically for storage, such as a pantry, have standard depths that range from 12 to 24 inches. These are much taller than base cabinets and may be up to 8 feet high. A 12-inch-deep pantry cabinet with fixed shelves is ideal for storing boxed and canned goods. A 24-inch deep cabinet is standard for a pantry-style cabinet with sliding drawers and shelves.
Tall Appliance Cabinets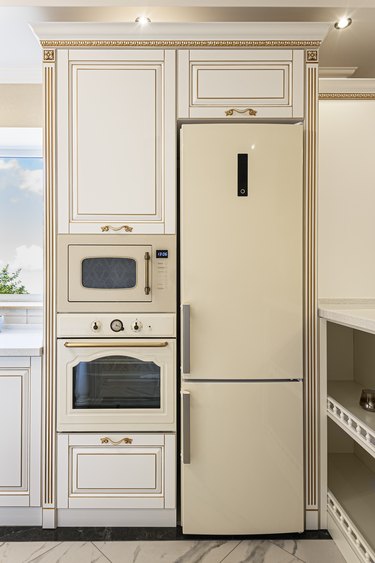 Another specialty cabinet similar to the pantry or storage cabinet is designed to fit ovens and microwaves, especially the wall-mounted varieties. Some also fit around uniquely sized refrigerators. This type of cabinet unit is also quite tall, starting from the floor and sometimes reaching the ceiling. The standard depth on these is 24 inches, which is deep enough to house the most common ovens. If you're in the market for an oven cabinet to surround an existing oven or microwave, measure the appliance first to ensure it fits the 24-inch standard cabinet depth.
Tall appliance cabinets often have a little storage space within them as well, using up the space not occupied by appliances. These, like the pantry-style cabinets, are usually designed to match the surrounding cabinetry.
Kitchen Island Considerations
While it may not be regarded as a cabinet, the kitchen island is much like a base cabinet and they are sometimes even built from stock base cabinets. As with a base cabinet, 24 inches is a fairly standard depth for a basic rectangular kitchen island, although numerous pre-made options exist in different depths.
Before buying or building a kitchen island, make sure it fits the available floor space. Ideally, the island should have 36 to 42 inches of clearance around it on all sides, including any seating placed around the island. With less than 36 inches of clearance, moving around the island proves awkward when people are seated or standing at it. In a tight space, a compact rolling island cart with locking wheels may be a better option. This way, the cart can serve as an island when positioned in the center of the kitchen and become a cart or storage space when tucked into a corner.
Specialty Cabinet Sizing
Specialty cabinets, such as the narrow storage cabinets that fit between appliances, typically follow the standards of base cabinets, as they often fit alongside them. This also applies to diagonal corner cabinets; the depth on these should match the wall or base cabinets surrounding them, typically 12 or 24 inches. If you need an unusually sized cabinet, consider hiring a carpenter or cabinetry company to construct one that fits the space in your kitchen.