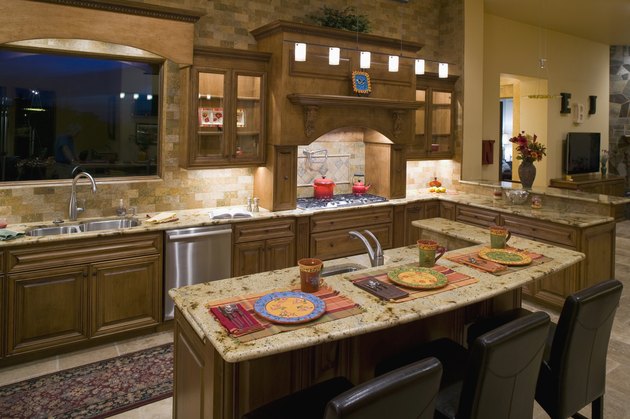 Kitchen counters serve as more than places to store appliances. You prepare food, wash dishes and perform other duties at the counter and its height makes a big difference in your ergonomic comfort. Standard heights have been adopted for the different countertop surfaces in the kitchen but your personal preferences and needs may make alternative measurements preferable.
Standard Countertop Height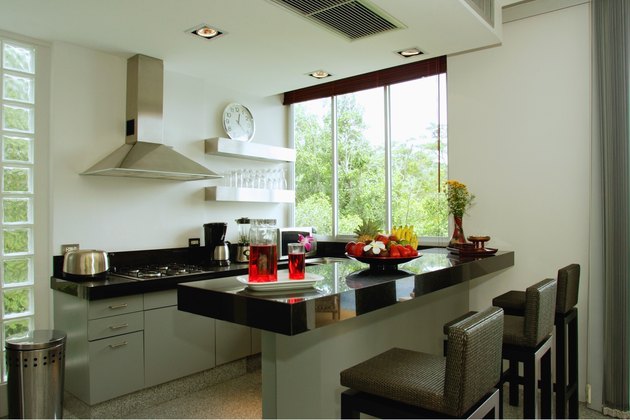 The standard countertop height in a kitchen is 36 inches high. Cabinetry and appliances are designed to fit this height and average-sized people will find this a comfortable work height. This specific measurement is not exact; tile or stone countertops may add ½ to one inch to the height, while Formica or other materials come closer to the ideal height.
Lower Countertop Height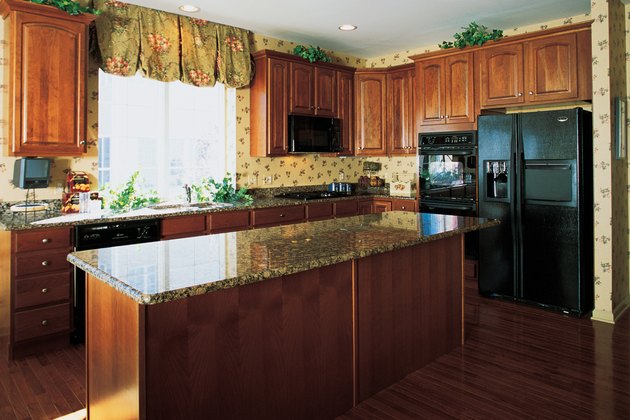 Many shorter people find the standard counter height too tall to work at comfortably. A different height measurement can be built into the kitchen work surfaces but it requires custom work to fit the cabinets and appliances. A rule of thumb for determining proper countertop height is that, when resting your hands on the countertop, your elbows are bent at a 45-degree angle. Many people of less than average height find 32 inches to be a comfortable work-surface height.
Taller Countertop Height
People who are taller than the average person find themselves bending over to work at the standard counter height. For these cooks, raising the height a few inches to a more comfortable 38 or 39 inches improves their ergonomic comfort in the kitchen. Custom cabinets are required to accommodate a lower or higher height but your comfort in kitchen duties may make the expense worthwhile.
Wheelchair- Accessible Counter Height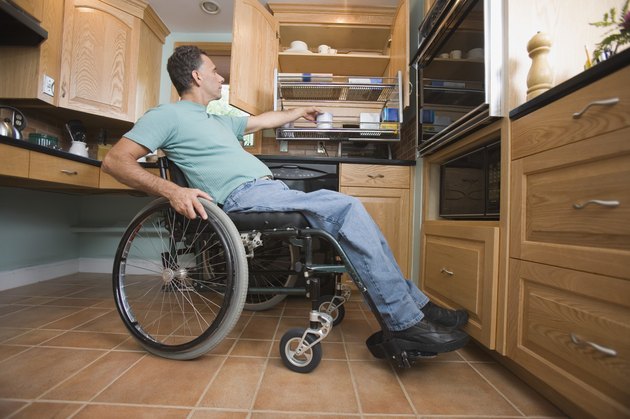 A kitchen counter designed for wheelchair access requires a different counter height. The arms of a standard wheelchair are 29 inches high, so an ideal work height is 32 inches. The countertop design may allow for adjustment of this height to accommodate the comfort of the cook.
Kitchen Island Height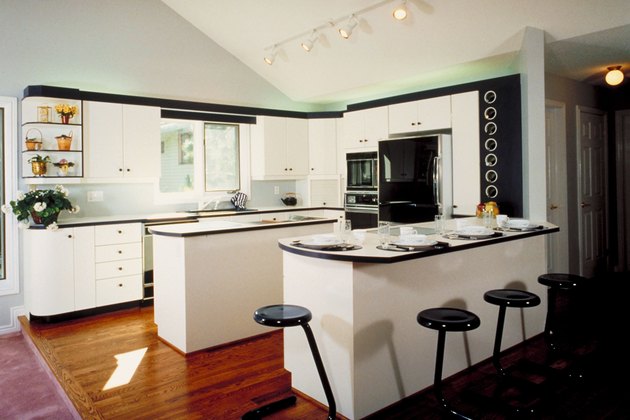 A popular feature in many kitchens is the island with the eat-in bar. The bar is raised above the 36-inch height of the counter surface so that tall bar stools can be used as seating. The height for this eating surface is usually 42 inches.
---
Warren Rachele has been writing since 1991. He has written two books, as well as articles on topics including programming and spirituality for "Your Church" and "PRISM" magazines. Rachele holds a Bachelor of Science in computer science from Regis University and a Master of Divinity in theology from Denver Seminary.