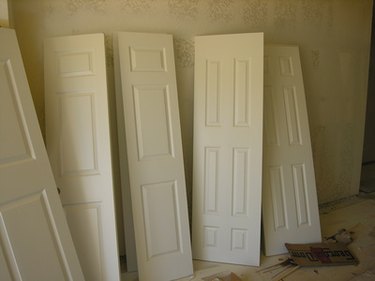 Building a panel room divider is a great weekend project that anyone with a few carpentry skills can do. A room divider can be used to make an interesting decor statement, as a functional privacy screen or to section off a room. The options for building and decorating a room divider are almost endless. An easy, inexpensive design uses doors, paint and a little imagination.
Step 1
Purchase three hollow-core doors from your local home improvement store. These should be no smaller than 12 inches wide and 7 feet tall. Purchase six double-acting hinges with hardware, paint, brushes and any other decorating supplies you choose.
Step 2
Measure the doors for the desired height and cut to size with a circular saw. Cut the doors shorter if you plan to use the divider as a decorative element, longer if it will be used for privacy.
Step 3
Measure and mark off five equal blocks, one on top of the other, on the front and back of each door. Use masking tape to tape off the blocks. Paint the door edges and the blocks on both the front and back of each door. Use different colors of latex paint for the blocks. Allow the door panels to dry before continuing to the next step.
Step 4
Use interesting geometric stencils to transfer different shapes and patterns to each block. Using a stencil brush, paint them with contrasting colors for an artistic look. Allow the door panels to dry overnight.
Step 5
Lay the doors flat with the front sides facing up. Align the bottoms so that they are flush with each other. Mark the location for the hinges. Position the hinges so that there will be three hinges evenly spaced on each side of the center panel. Attach the hinges to the center panel and to both side panels using a drill and the appropriate-size drill bit.