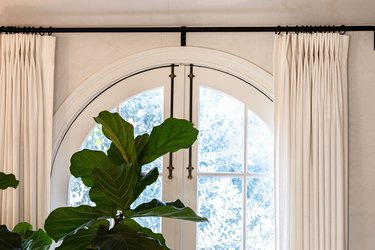 Whether you're buying ready-made or going bespoke, in order for curtains to be both functional and aesthetically pleasing, they must be the right size for your window. Getting the right curtain measurements is essential to finding or creating the perfect curtains for your home.
Curtain Placement Options
Before you measure your window, you first must consider how you're planning to hang your curtains or blinds. The curtain rod should be placed at least two inches above the top of the window, though it can be placed higher if you want to create the illusion of bigger windows.
You'll want your curtain rod to extend past the ends of the window to make sure your curtains can successfully cover it. At least 3 inches is recommended.
Determining Curtain Width
If you already have a curtain rod, you can use this as a tool for measuring for curtains. If not, you can measure the window itself, but make sure to add six 6 inches (three on each side) for the curtain rod. Even if you have two "identical" windows, make sure to measure every window individually, as they may be slightly different.
You'll want to decide how gathered you want your curtains to appear. If you want them to be slightly gathered, around one-and-a-half times the width of your window should do the trick. If you want a more gathered effect, two times the width is ideal. For lightweight, sheer options such as lace curtains, you can go up to three times the width of the rod and achieve an attractive gathered effect.
Properly Measuring Curtain Lengths
Deciding on curtain length depends a lot on your rod placement. It also depends on the method of attaching your curtains to the rod. You also want to consider how low you'd like your curtains to hang below the window.
First, make a note of where you're placing your rod. Then, decide if you're going to use rings to attach the curtains to the rod – if you are, the curtain measurement should start after the rings. You'll want your curtains to hang at least two inches below the bottom of your window to ensure the window is properly covered.
Some people prefer an inside mount where the curtain and mount are within the window frame. For this style of curtain, you have to be much more exact with your length measurement. Although it offers a sleek look, it doesn't cover a window as well as traditional outside mounting techniques.
Different Curtain Length Styles
There are four different styles for curtain length, and each offers a different type of look. Streamlined curtains utilize an inside mount and fit the precise length of the window. Floating curtains go past the length of the window but float above the floor. Kissing curtains just touch the floor, which requires a careful size measurement. Pooling curtains have an excess of length and create folds of fabric on the floor. They look luxurious but are only suitable in thinner fabrics with extra drape.
Deciding on your desired curtain size and measuring the window accordingly is a fantastic way to design made-to-measure curtains. However, if you're buying ready-made curtains, you may need to compromise slightly on sizes. Depending on the store you're purchasing from, curtains are usually offered in an array of different widths and drops. Using a chart, you can determine which option is the best for your window size. If you're going for an outside mount, you have a little more leeway on sizes, which can be handy. Remember that it's always better to have a little too much curtain than not quite enough!