Bamboo wood floors come from the bamboo plant, which is a quick-growing renewable resource. It's a popular wood floor option for this reason. Another reason people select bamboo wood floors is because advertisements claim that bamboo is as hard as other woods used to make conventional flooring. That isn't true. Bamboo is susceptible to damage, cracks and dents, just like walnut, oak and other wood flooring options. Use care when selecting a rug for your bamboo floors to ensure they retain their natural beauty.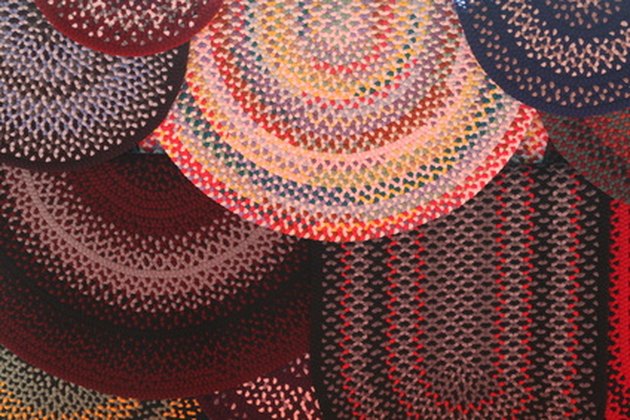 Colorfast, Scratch-Resistant Rugs
Bamboo Flooring Biz suggests choosing colorfast, scratch-resistant rugs for bamboo floors. Suggested rug fiber options include wool, silk, cotton and jute—another natural option in between wool and cotton in terms of durability, with wool considered the most durable. Stay away from other natural rug fibers, like sea grass and sisal, that add an element of texture, but also cause scratches. Select a textile that holds its dye well, such as wool or one treated with colorfast dyes—a treatment used to stop color loss—to prevent the rug from discoloring the wood. Look for a rug with a colorfast label or tag indicating the textile is treated with colorfast technologies.
Sunlight causes bamboo floors to fade. You want to cover exposed wood with a rug fiber that keeps sunlight out. Acrylic and polypropylene, two synthetic textiles, resist sunlight and protect floors from exposure to the sun. Most wool and some cotton rugs also protect floors from sunlight. Look for rugs with a tightly woven fabric that keeps light out. If you hold it up to the sun or lamp and light penetrates through, it is not light-resistant or an ideal option for covering bamboo floors.
Avoid Rugs with Rubber Backing
Although rug makers apply rubber backing to rugs to keep them in place and prevent them from sliding on a hard surface, the rubber backing doesn't give bamboo a chance to breathe. Lack of ventilation causes the wood underneath the rug to discolor and fade. Avoid rugs with rubber backing for use on bamboo floors.