As a floor covering for the kitchen, bamboo flooring has a lot going for it, and it definitely belongs on your list of possibilities. It's similar to hardwood flooring, but depending on the type you choose, it can be much harder, and it's more water-resistant than traditional hardwood as well. What's more, it's an eco-friendly forest product with a contemporary look that does much to modernize your kitchen décor.
You have your choice of a number of different types of bamboo flooring, and some work better in the kitchen than others. Before you select a product, it's important to check the manufacturer's warranty to make sure it covers the product for kitchen installations. If not, don't worry, because it isn't difficult to find a product that is warranted for kitchens.
A Bamboo Flooring Primer
You can purchase solid bamboo planks or engineered ones. Unlike wood flooring, bamboo is a manufactured product, so while solid bamboo is indeed bamboo through and through, it's created by a process that involves separating the stalks into strips or fibers and gluing them together under pressure, so it also includes glue. Engineered bamboo flooring contains less bamboo because it consists of a top layer of processed bamboo covering a plywood core.
Horizontal/vertical bamboo: Because natural bamboo is tubular, the traditional method of processing bamboo consists of first slicing the stalks into strips, gluing them together to form logs and milling the logs into planks. Milling along the grain produces a vertical grain pattern, and slicing across the grain produces a horizontal grain pattern. Bamboo flooring produced in this way is a little harder than red oak, which is considered a benchmark material for hardness in wood flooring.
Strand bamboo: About 10 years after the introduction of bamboo flooring in 1989, strand weaving was developed. This innovative process involves boiling the natural bamboo to soften it and then separating the stalks into individual fibers, which are then dipped in resin and pressed together. Strand weaving produces a super-hard "wood" with the highest Janka hardness rating of any flooring material.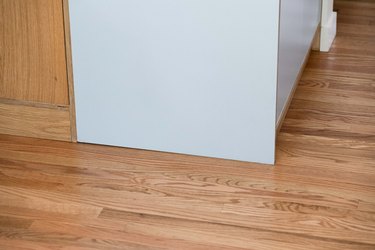 Is Bamboo Flooring Waterproof?
Like wood, bamboo absorbs moisture, and it can swell or sustain water damage, but some products perform better than others. According to Ambient Bamboo Floors, high-quality strand bamboo is waterproof for up to 20 hours, which means the flooring is safe from spills as long as you wipe them up within this time frame. Horizontal and vertical bamboo doesn't have quite the same water resistance, and less-expensive bamboo planks of this type often have a less-robust finish that more easily sustains water damage.
Warping is one of the potential problems with hardwood floors in general, and that also applies to bamboo. You wouldn't want to install solid bamboo flooring in a kitchen with high humidity or in a basement. Engineered bamboo flooring planks, by virtue of their construction, are more stable and may be suitable in such situations, but check the manufacturer's recommendations.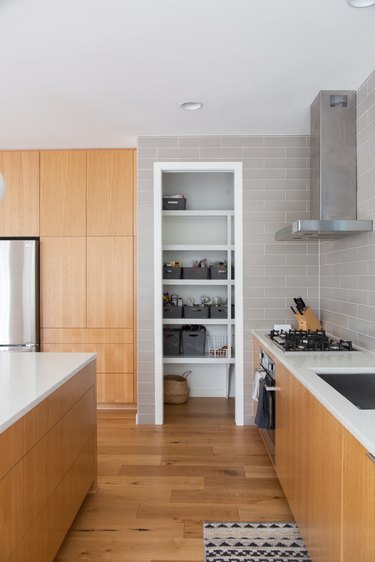 Installing Bamboo Flooring
Solid bamboo flooring comes in tongue-and-groove planks that you nail to the subfloor in the same way you nail hardwood planks. The job requires skill and is best left to a pro, who will charge anywhere from $3 to $10 per square foot. The installation requires a level, dry wood subfloor. Engineered bamboo planks can also be nailed down, but they also come with a click-together locking system that makes them as DIY-friendly as laminate flooring. Click-together planks create a more versatile floating floor that you can install over an imperfect subfloor or even existing tile, hardwood, vinyl or concrete.
What's It Going to Cost?
Bamboo flooring costs about $2 to $8 per square foot, and it's definitely worth your while to stick with products in the mid to upper price range for a kitchen — less-expensive products aren't as durable or water-resistant. Moreover, one of the cons of bamboo flooring, especially less-expensive brands, is that they can off-gas volatile organic compounds from chemicals used in the adhesive. With this in mind, a trendy new bamboo floor in a 100-square-foot kitchen should cost a little more than $500 if you install it yourself and about twice that if you have it professionally installed.
---
Chris Deziel is a contractor, builder and general fix-it pro who has been active in the construction trades for 40 years. He has degrees in science and humanities and years of teaching experience. An avid craftsman and musician, Deziel began writing on home improvement topics in 2010. He worked as an expert consultant with eHow Now and Pro Referral -- a Home Depot site. A DIYer by nature, Deziel regularly shares tips and tricks for a better home and garden at Hunker.com.
View Work