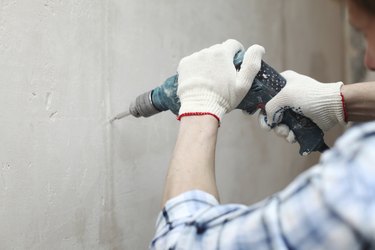 By itself, drywall won't hold a screw, so if you want to attach anything to the wall or hang anything heaver than a few pounds, you need to install a wall anchor to hold the screw. The size of the hole you drill for the anchor depends not only on the size of the anchor, but on its type.
Plastic Anchors
You know the hole for a conical plastic anchor is the right size if you have difficulty pushing it in -- you may have to tap it with a hammer. To get the right-size hole, measure the shank of the drill bit against the front of the anchor -- its diameter should be the same size or 1/16 inch more than that to make the opening for the screw. If the diameter of the anchor is displayed on the packaging, drill the hole with a bit of the same diameter.
Heavy-Duty Wall Anchors
Metal or plastic anchors with expanding wings can hold heavier weights and don't have to fit as snugly. The diameter of the hole you need is determined by the diameter of the anchor sleeve; measure it with a ruler when the wings are folded as closely to the sleeve as possible and use a bit with that diameter. Some anchors are designed to screw directly into drywall, and these are easier to install if you drill a 1/4-inch pilot hole.