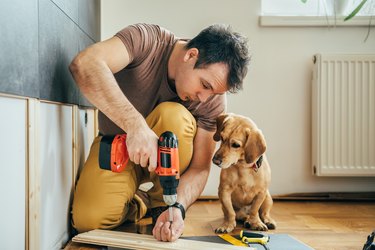 A power drill is one of the most useful tools a DIYer can own. It drills holes, of course, but it also doubles as a screwdriver, and in a pinch, you can use it for buffing, sanding, stirring paint and even cleaning your drains. Corded drills used to be standard, and they're still available but are slowly-but-surely being phased out in favor of cordless models by major manufacturers such as Milwaukee, Makita, Bosch, and Ryobi. Besides make and model, one of the most important choices confronting a homeowner shopping for a drill is battery size. The main choices are 6, 12 and 18 volts, and whether or not you opt for a larger capacity depends on where you stand on the scale of convenience and power. Drills with even larger batteries, such as 20-volt or 24-volt, are also available, but these are normally contractor-grade tools, and most homeowners don't really require that much power.
Cords Are so Twentieth Century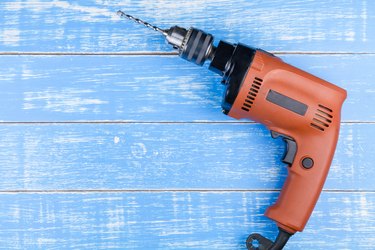 If you already have a corded drill, there's no need to throw it away. It will do whatever drilling job you need, and you won't ever have to worry about the battery dying. The cord, however, is a problem. Before you can use the drill, you have to locate a convenient outlet or get an extension cord, and both the power cord and extension cord get in the way. That can be dangerous when using the drill on a ladder. The cord also limits the number of ways you can hold the drill and may prevent you from getting the tool into a tight spot. One more thing: older corded drills aren't always variable speed, and without this feature, it's difficult to use the drill to drive screws.
Modern cordless drills can do everything corded drills can do, and contemporary lithium-ion batteries provide hours of continuous service. Pack a battery drill on your tool belt or carry one in a large pocket, and you'll be surprised at how often you use it. Homeowners and professional tradespeople appreciate that type of convenience, and corded drills have all but disappeared from store shelves. If you find a corded drill in your dad's tool chest, save it. It may be worth something on the antique market in fifty years.
Why You Need a Drill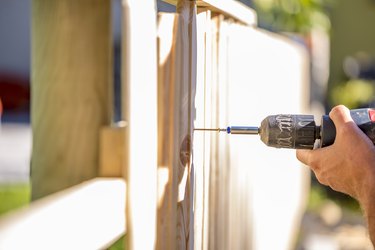 If you could only own one power tool, it would have to be a drill. Besides drilling holes, which is an essential function, it drives screws, and that's probably the main reason you need it. It isn't just that a drill makes the job faster; it provides the extra power you need to sink long screws into dense material. If you're on the fence about purchasing a drill, try an experiment with a borrowed one: drive a 2-inch screw into a wall stud by hand, then use a drill to do it. Your wrist will probably be sore after driving the screw by hand, and you may strip the screw head, whereas the same procedure will be effortless using a drill. That should help you make up your mind.
The rotating motion of a drill is useful for a multitude of purposes. You can purchase accessories that allow you to stir paint, mix mortar, grind metal, polish brass, or sand and shape wood and plastic. You can even buy an auger accessory that turns your drill into a plumbing tool that cleans drains. You can use a drill to bore pilot holes in ceramic or concrete and set bolts. Try doing that with a screwdriver.
Choosing a Drill
Every tool manufacturer offers a line of power drills, and the one you choose may come down to something as simple as loyalty to a particular brand. Battery styles differ from maker to maker, and if you already own a rechargeable battery used for another tool, you'll want a drill that works with the same battery style. If you're starting your tool collection from scratch, the choice may come down to the drill that fits best in your hand and is most comfortable to use. In terms of performance, they're all about the same, although consumer reviews do note small differences from model to model.
You'll have to decide whether you want a full-size 18-volt drill or a smaller one. While 6-volt cylinder drills are the ultimate in convenience, they aren't up to tough jobs, and may not even sink a 2-inch screw all the way Twelve-volt drills are midway between in size and power between tiny utility drills and contractor-friendly 18-volt ones. They have the power for most jobs and may be a great choice if you're budgeting for space in your tool chest or on your tool belt. If you can, though, choose an 18-volt drill. It isn't much bigger, and it's guaranteed to do everything a drill is supposed to.
The batteries used in cordless drills and other tools have evolved over the years, and today the choices usually boil down to Ni-Cad or Lithium-Ion. Ni-Cad batteries (nickel-cadmium) were once state-of-the-art, but they are gradually being replaced by lithium-ion tools, which are lighter in weight and tend to last longer. Most importantly, lithium-ion batteries are more environmentally friendly, since they contain none of the toxic heavy metals found in Ni-Cad batteries. Whenever possible, opt for cordless tools that are powered by lithium-ion batteries.
Make sure you know what you are buying when you purchase a cordless drill. The biggest cost in a cordless drill is the battery itself, so if you find a good-priced kit that comes with an extra battery, it is well worth the money. Be wary of extremely low-cost units, as it's possible they are being sold without a charger or perhaps even without a battery at all.
A good choice for a general homeowner workshop is a good-quality 18-volt cordless drill with charger and at least one extra battery. But don't be surprised if you soon feel the need for a second drill, since this is one of the most versatile tools in your DIY arsenal.
Specialty drills. When you're shopping for your drill, you'll see larger hammer drills, which are mostly corded. These are designed for contractors, but you might consider buying or renting one if you have a project that requires a lot of drilling in concrete or brick. Reach for an impact driver, which sometimes comes bundled in a kit that also includes a regular drill, when you need extra torque to drive a long screw or free a stuck one. A right-angle drill is also a contractor's tool. The 90-degree angle between the chuck and the drill body allows electricians and plumbers to make holes in tight spaces.