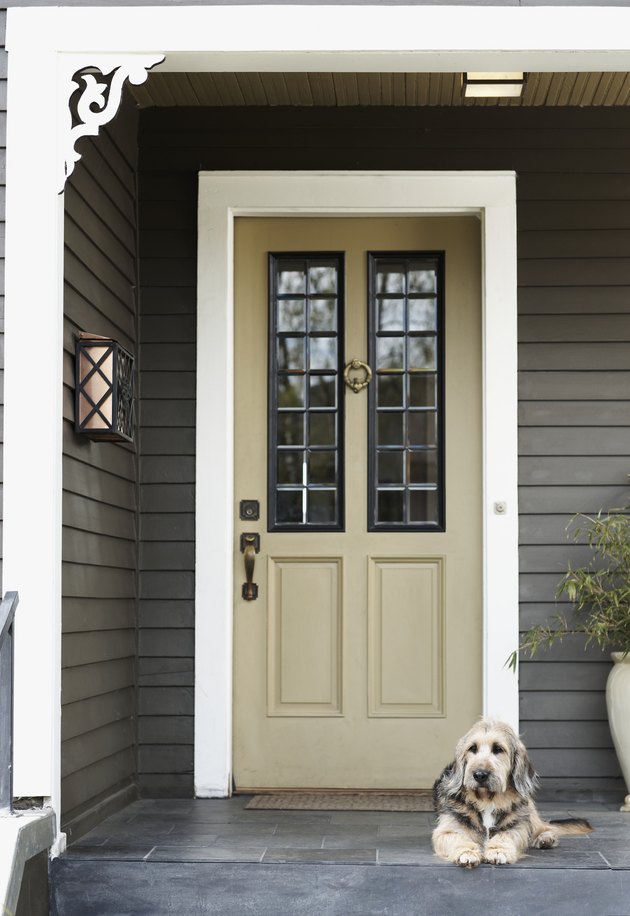 Peel and stick tile is a cost-effective way to save time on installation. Peel and stick tiles are usually made from vinyl and have a self-adhesive backing that sticks to most smooth, flat surfaces. Since peel and stick tiles do not require mortar or grout for installation, they are not as sturdy or as long-lasting as ceramic, porcelain or stone tiles. As a result, peel and stick tiles only are useful outdoors if they are protected from harsh elements, moisture, and extreme wear-and-tear.
Covered Porch Floors
Opt for peel and stick tile flooring in an outdoor covered porch. If your porch has a cement or hardwood subfloor, install peel and stick tiles over the subfloor. Since moisture can damage peel and stick tiles and cause them to lose their adhesive qualities, make sure your floor surface is dry and protected from rain. Avoid placing peel and stick tiles over splintered wood because they will not properly adhere to the uneven surface. Removal of peel and stick tiles can further damage deteriorating wood surfaces.
Shed Floors
Install peel and stick tiles on shed floors. Many outdoor sheds have plywood floors that are well-suited for peel and stick tiles. Peel and stick tiles hide oil marks, dirt spots and grass stains from lawnmower and yard equipment usage. Choose peel and stick tiles with neutral earth tones and simple patterns to blend with outdoor elements.
Cement Patio Floors
Use peel and stick tiles on cement floors in outdoor sunrooms and screened-in patio areas. Covered patios protect vinyl peel and stick flooring against wind, moisture and deterioration. Peel and stick tiles do not damage cement subfloors and are easily removed when it comes time to replace them. Avoid installing peel and stick tiles on cracked or damp cement surfaces that can cause the tiles to pull away and loosen from the cement.
Porch Wainscoting
Select peel and stick tiles as external wainscoting in a covered porch or patio area. Wainscoting is the application of wood, tile or other materials to the bottom third of a wall. Wainscoting is primarily decorative, but it also protects the bottom portion of a wall from dirt and grime. Choose peel and stick tiles with a decorative design to complement the motif in your covered porch or patio. Only install peel and stick tiles on walls that are completely protected against rain and wind.
---
As curriculum developer and educator, Kristine Tucker has enjoyed the plethora of English assignments she's read (and graded!) over the years. Her experiences as vice-president of an energy consulting firm have given her the opportunity to explore business writing and HR. Tucker has a BA and holds Ohio teaching credentials.