The sanitize cycle on your washing machine is designed to get rid of, or at least reduce, the amount of microorganisms -- such as germs and bacteria -- on clothing. This cycle prevents these microorganisms from contaminating subsequent loads of laundry. Although not everyone needs their laundry sanitized, there are some circumstances in which the sanitizing cycle can be very important.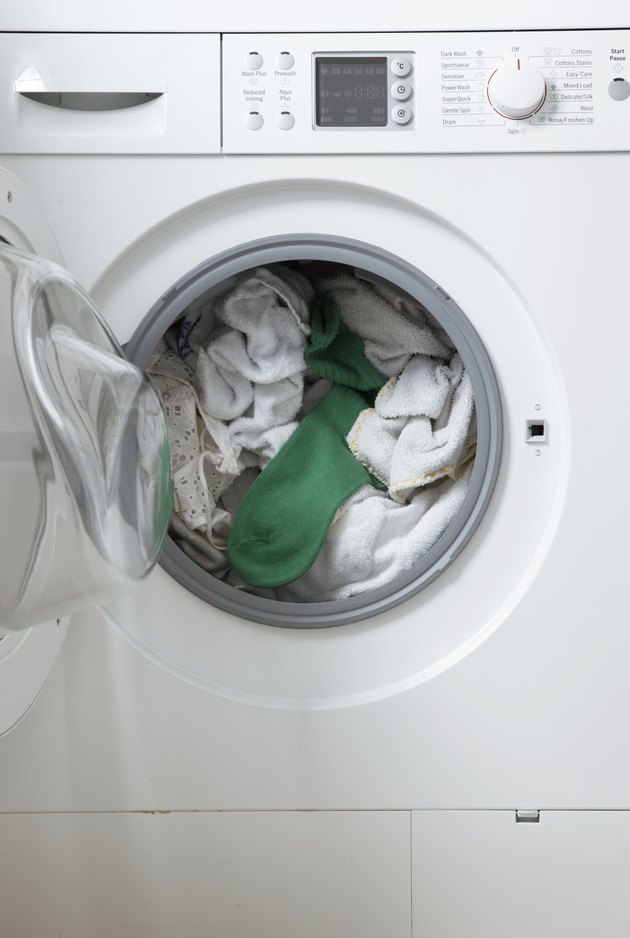 That freshly dried load of laundry you just took out of the dryer may not be as clean as you think. Germs and other unpleasant things -- such as fecal matter -- can linger in washing machines and on clothing even after you do a load of laundry. Although bleach and hot water can both kill organisms such as E. coli and salmonella, not everyone uses bleach when doing laundry, and many people wash all their clothing in cold water rather than wasting money on hot water. In addition, standard dryers don't usually reach high enough temperatures to effectively kill these microorganisms.
Sanitizing washers use steam or water to kill microorganisms that may be on your clothing or linens. During the cycle, steam or water is heated to a temperature of at least 165 degrees Fahrenheit -- hot enough to destroy these little pests. Not only does the process kill germs and harmful microorganisms, but it also freshens up the scent of your laundry, because it kills odor-causing bacteria as well.
NSF International is an independent company that tests consumer products to evaluate their safety and effectiveness for the general public. The company tests washers with a sanitizing cycle to see how effective they are in actually killing the microorganisms. Washers that kill 99.9 percent of the microorganisms are awarded the NSF seal of approval. Whirlpool was the first brand to win this award. If you are shopping for a sanitizing washer, it's a good idea to look for one with the NSF mark.
Sanitization of laundry is not of the utmost priority for everyone. It can, however, be very beneficial to people in certain situations. Health care workers, for example, will greatly benefit from being able to sanitize their clothing. Mothers who choose to use washable cloth diapers may also find the cycle useful and time-saving. People who work with animals can use the cycle to reduce odors, and mothers of teenage boys might select that cycle for the same reason when they wash their sons' socks.