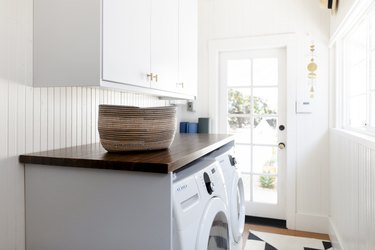 A reliable washing machine is easily one of the most important household appliances you could own. Without a washing machine, doing laundry becomes a much more time-consuming and labor-intensive task. There are several washing machine features and benefits, and there are several brands of washing machines from which to choose. Learn more about the most important advantages of these super-handy appliances.
Washing Machines Save Time
When it comes to a fully automatic washing machine, there is no denying the most important benefit: It is a huge time saver when compared to handwashing. You don't have to do anything except dump your clothes in the machine, turn on the power, and pick your cycle. There is virtually no labor required.
Especially considering how much time the average American family spends on doing laundry, the time-saving benefits of a washing machine are clear, and you can save even more time by following these tips:
Do full loads of laundry.
Separate your laundry by fabric type and color.
Make sure to remove stains immediately.
Use the right amount of detergent to avoid extending the wash time.
Use the right/fastest cycle.
Clean your machine from time to time.
Washing Machines Are Easy to Operate and Repair
Automatic washing machines are easy to clean, operate, and repair. Of all the household appliances, they are one of the most convenient and easy to use. They are also one of the simplest machines, so many homeowners will be able to do repairs on their own. In today's technology-crazed world, where it can be difficult to figure out how to operate and maintain new devices, this is no simple feat.
Multiple Sizes and Styles Are Available
Depending on your budget, your lifestyle, and the size of your home, there are dozens of washing machine brands and styles from which to choose. You can really customize your machine according to what works best for you. Consider these factors when choosing the right washer:
Figure out which model you prefer: for example, front-load, top-load, side-by-side, stackable, or stacked.


Consider what capacity is right for you (people who do larger loads of laundry need a greater capacity, obviously).


Look for appliances that are appropriately sized for your space.


Make sure your machine has a variety of wash cycles, not just one or two.


Think about whether smart technology features are important to you, such as being able to connect to Wi-Fi.


Consider getting an energy-efficient model, especially if you are shopping on a budget.