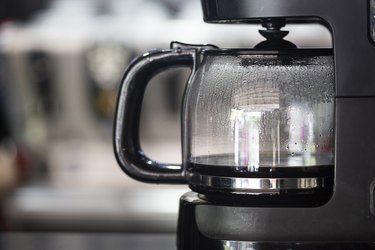 If you're a coffee connoisseur, it can be difficult to make it through the day without your favorite beverage. You need a hardworking coffee maker that you can rely on to ensure a delicious cup of brewed coffee whenever you want one. Over time, the coating on your coffee pot's hot plate might start to peel, making it difficult for you to prepare the coffee you want. Fortunately, there is a way to fix this issue so that you can continue to use your coffee maker.
Important Safety Considerations
If you plan to repair your coffee maker, be sure you have unplugged it before getting started. In addition, if you have recently used the coffee pot, allow it to cool completely before you begin the repair process. Touching the hot plate when it is still warm can lead to severe burns.
To fix a peeling hot plate on your coffee maker, you will need to use tools like a hacksaw and sharp metal pieces. If you are not comfortable working with these tools and materials, you should not proceed. If you determine you'd prefer not to move forward, you might wish to just purchase a new coffee pot. Getting a professional to repair this sort of appliance is typically not cost-effective, since coffee makers are fairly inexpensive to purchase.
If you'll be using a saw and metal sheeting to repair your hot plate, do so in a well-lit area away from children and pets. Wearing safety goggles and gloves is preferable for this sort of project.
Recoat a Hot Plate
If you are going to undertake a coffee maker hot plate replacement, you will need to first measure the circumference of the circle of the hot plate. You can do this by placing a sheet of paper over the cooled hot plate portion of the coffee maker and using a pencil to trace the edge or by using a piece of string and laying it around the edge of the circle. Then, use measuring tape to find the circumference.
Next, use a hacksaw to cut a piece of thin metal sheeting to the same size as your coffee maker's hot plate. If the coffee maker heating element paint is mostly off already, use sandpaper to remove it completely. With a wet paper towel, wipe off any excess debris or loose pieces of hot plate paint.
Then, place the metal sheeting on the hot plate. If it doesn't quite fit, you can make adjustments using your saw. You may also use sandpaper to get a perfect fit in the hot plate.
Alternative Methods of Replacement
According to Josh Harvey of IFixIt, it is also possible to replace the hot plate of a coffee maker by removing it from the appliance and installing a new one. Before you endeavor to take on this project, verify with the manufacturer of your coffee maker that a replacement hot plate is, in fact, available.
If you are able to find a replacement hot plate, you should be able to remove the existing one by locating the screws on the bottom panel of the coffee maker and removing them. This will allow you to take the bottom of the coffee maker off.
You will then need to remove screws from the coffee maker's heating element, and then separate the heating element from the hot plate. When you install the new hot plate, you should use fresh thermal paste to make sure it adheres properly.