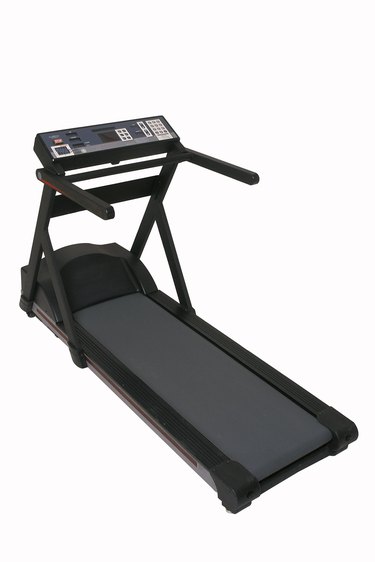 Home treadmill units range from lightweight models to larger, semi-professional ones. All treadmills have a similar shape, with the flat walking area by the floor and arms that hold a progress monitor. Some treadmills fold almost flat, while others only fold with the arms part way toward the tread. Others must be partially taken apart to move them through a doorway.
Step 1
Locate the toggle switch that allows the arms to fold down. Push or pull it as the directions instruct and carefully fold the arms downward as far as they will go.
Step 2
Measure the distance between the tread and the arms to see if that gives you enough room to slide the unit sideways through the door way.
Step 3
Remove the arms if folding them does not give you proper clearance or if the arms do not fold. Disconnect the wire to the monitor first before taking the arms off. If the wire goes down through the arm to connect to the tread then be sure to note the proper way to reattach it.
Step 4
Life the tread portion with a person on each end and turn the equipment sideways. Use your knees to provide the lifting power instead of your back muscles.
Step 5
Walk the machine carefully through the doorway until it is completely through and set it down in the new location. Watch to see if the belt slips while turning the unit sideways, and place it back where it belongs if it does. Bring the arms and monitor next, taking care not to jar the monitor.
Step 6
Unfold the arms or reassemble the unit.