Things You'll Need
Screwdriver

Painter's tape

Tack rags

Stain or paint stripper

Paint scraper

Wood cleaner and de-glosser

Old rags

Stain
Tip
Sand the cabinets before staining when necessary. A proper and necessary sanding job prevents the stain on cabinets from appearing uneven and lumpy.
Warning
Dispose of the staining rags by submerging in water in a steel bucket. Take this bucket to a home improvement center. This prevents the rags from self-combustion due to the chemicals in the stain.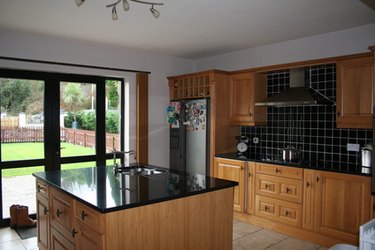 Sanding to repaint or stain cabinets takes a lot of time and energy. Not all staining projects require sanding, especially if you purchase new, already sanded cabinets. However, you can also avoid sanding if you wish to re-stain old cabinets that have no major dents or scratches that need intricate repairs. Skipping sanding when staining cabinets cuts down on the time necessary to complete this finishing project.
Step 1
Prepare the cabinets and surrounding area for the staining or re-staining project. If you plan to stain new cabinets, stain the cabinets before hanging the cabinets. For pre-hung or old cabinets you plan to re-stain, remove cabinet doors, using a manual screwdriver. Cover all walls and countertops touching the cabinets with old newspaper and painter's tape to prevent damage to those surfaces.
Step 2
Wipe the removed cabinet doors and all cabinet surfaces with tack cloth to remove any dust on the cabinets from at-the-factory sanding or just from sitting inside the home undusted for any period.
Step 3
Apply stain or paint stripper to the previous stained or painted surfaces of the cabinets and doors. Follow the directions on the container, and wait the appropriate amount of time before beginning to scrape the stain or paint from the cabinets with a paint scraper tool. Continue to scrape and apply more stripper until all the old paint or stain no longer exists.
Step 4
Clean the cabinet faces and doors with a wood cleaner that contains de-glosser. Use an old rag to clean and wipe all exposed surfaces of the cabinets with this cleaner, and remove any residue from the chemical stripper and old paint or stain.
Step 5
Allow the cleaner to dry, and then apply the new wood stain on an old rag. Work the rag across the cabinet doors and faces to re-stain the cabinets. Rub the rag in circles to produce an even color across the cabinet surfaces.
Step 6
Allow the first coat of stain to dry overnight, and apply another coat of stain, using the same method described in the previous step and a new staining rag.
Step 7
Reassemble the cabinets by replacing the cabinet doors to the door facings. Use a manual or power screwdriver to drive the screws back through the hinges and into the holes on the cabinet faces.