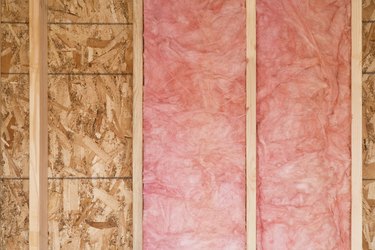 Fiberglass insulation became popular for residential use in the 1940s and is still a standard building material in new construction and home remodeling projects. In the old days, there was little concern about how to dispose of used or leftover fiberglass insulation. Today, consumers are more concerned about what happens to construction waste than they were 80 years ago.
Remodeling a home often involves removing old building materials and debris during and after the demolition stage of the project, and fiberglass insulation usually is part of the mix. Newly constructed homes and remodels, especially when finishing an attic, often generate leftover insulation for which disposal is necessary.
If you hire an insulation contractor as part of your remodeling project or to add insulating material as a way to increase your home's overall energy efficiency, the installer will typically handle any disposal tasks. However, knowing how to dispose of fiberglass insulation is necessary if your DIY remodeling project calls for removing or installing blown or batt versions of the material.
Safety Tips for Removing Fiberglass Insulation
Fiberglass insulation, although soft and warm in appearance, can cause skin and eye irritation and is potentially hazardous if inhaled or ingested.
Protect yourself during the disposal process by wearing long sleeves and pants that you're comfortable throwing away when the job is complete. Alternatively, wear disposable, protective coveralls to keep insulation fibers off yourself and your clothing. Also, wear a head covering, thick work gloves, safety goggles, and a dust mask or respirator to avoid inhaling fiber dust.
Additionally, seal off parts of the home that aren't part of the project to contain the dust and debris and keep it from finding its way into the rest of the house. Contain the removed material in large plastic or contractor-grade garbage bags before transporting it through the home.
If fiberglass insulation debris gets into your eyes, avoid rubbing them, and flush them with water for 15 minutes. Insulation that gets onto your skin can cause irritation. To stop the itch, avoid scratching the affected area, and wash it thoroughly with mild soap and water.
Tip
Though fiberglass insulation should be handled with care, rest assured it likely doesn't contain asbestos (which is commonly found in vermiculite insulation).
Can You Recycle Fiberglass Insulation?
Technically, fiberglass insulation is recyclable, but the process isn't efficient and it breaks down the materials into relatively unusable parts. So sadly, you likely won't be able to just drop off your used fiberglass insulation at a recycling facility. However, recycling fiberglass insulation is possible through reuse. Although fiberglass insulation can lose some of its insulating properties after several years, the material can last up to 100 years, so there's usually plenty of time to repurpose it in its original state.
Before reusing home insulation, ensure that mold hasn't crept into the material. Although the insulation material itself doesn't provide a suitable medium for mold growth, dust and other particles can become trapped in the fibers. The foreign debris can harbor mold relatively well.
How to Dispose of Fiberglass Insulation
Regardless of the insulation's color or whether it's in batt or blown-in form, you'll likely have several options when it's time to get rid of the material. The condition of the material will often determine the best means of disposal.
The best way to dispose of fiberglass insulation is to start with a call or an internet search about the rules in your area regarding the disposal of fiberglass insulation.
Discard Damaged Fiberglass Insulation
There's little you can do with fiberglass insulation that's been ruined by contaminated water or flood water other than throwing it away. Water itself won't harm fiberglass insulation, but the contaminants it could carry can be harmful. Additionally, the combination of trapped dust and water can provide conditions for mold growth whether or not it contains other contaminants.
Reuse Fiberglass Insulation
Perhaps the simplest way to get rid of fiberglass insulation is to reuse it in another project. Although the material loses some insulating value as it ages, things like fishing shacks, sheds, greenhouses, and other outbuildings could benefit from adding a bit of leftover insulation. If the insulation is in excellent shape, adding the leftovers for attic insulation could offer a little more energy efficiency to your home — and help you out with your energy bills.
Donate Unused Fiberglass Insulation
There are several ways to donate fiberglass insulation. It's not likely that many recipients would choose to take used insulation unless they plan to repurpose the material. However, Habitat for Humanity often takes donations of new, unused fiberglass insulation as long as it's still in its original packaging. The organization doesn't accept used insulation.
If you've purchased more fiberglass insulation than you need, neighborhood or regional social media websites are excellent options for helping you get rid of unused insulation by giving it away or selling any project leftovers.
The definition of a small amount of fiberglass insulation varies by location and municipality. Some city waste authorities allow you to throw away small amounts of old fiberglass insulation along with your other household waste. Some municipalities or trash collection companies require that you place the insulation inside single or double plastic bags.
In other locations, fiberglass insulation is considered hazardous waste and residents are not allowed to discard it with their other garbage. In those areas, a disposal site is often made available for discarding small quantities.
Either way, disposing of fiberglass insulation starts with checking your municipality's website for detailed information or calling to discuss your needs.
Disposing of Large Amounts as Construction Waste
During and after major demolitions or remodeling projects, homeowners may end up with a large quantity of both used and leftover fiberglass insulation. After giving away, donating, or resuing as much usable insulation as possible, the rest often ends up in a construction or demolition landfill.
For a fee, most major waste removal companies offer a roll-off or container program that allows you to rent a dumpster; fill it with construction debris, including insulation; and have it removed from your property by the company.
Another option is to load up a truck or trailer and deliver it to a nearby landfill that accepts construction materials. You'll likely need to pay a small fee to dump the waste.