Things You'll Need
Bowl

Aluminum foil

Baking soda

Salt

Lint-free cloth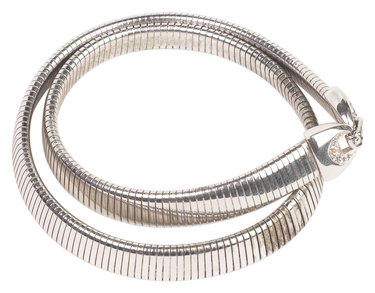 Silver plated jewelry adds a sparkling touch of style to your overall look. However, your jewelry may lose its luster over time. As dust, oil and dirt accumulate on silver jewelry, the jewelry begins to dull. Silver plating also will tarnish as it comes into contact with sulfur. The best way to clean silver plated jewelry is to use inexpensive household products that will clean efficiently but won't damage the silver plating.
Step 1
Cover the inside of a bowl with aluminum foil.
Step 2
Pour 1 tbsp. baking soda and 1 tbsp. salt into a bowl.
Step 3
Fill the bowl half full of hot water.
Step 4
Stir the contents of the bowl to mix them.
Step 5
Submerge the silver plated jewelry in the solution.
Step 6
Wait 10 minutes before removing the jewelry.
Step 7
Rinse the jewelry and wipe it dry with a lint-free cloth.