Cleaning an oven may not be a task that you are looking forward to, but it is one that's necessary from time to time. In order to efficiently do the job, it is important to have the right tools. It is safe to clean the inside of most conventional ovens with steel wool, though it might not always be necessary. Steel wool removes the baked-on messes that accumulate inside the oven and can assist you in the scrubbing process, thanks to its sharp bristles. Sometimes, a strong cleaning agent and some elbow grease is all you need to do the trick. You should never use steel wool on the exterior of your oven or on the glass portions, as scratching can occur.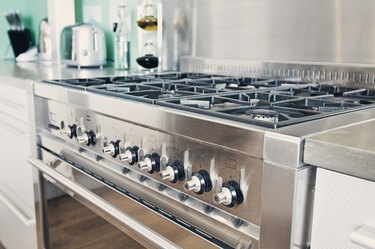 Conventional Ovens
Conventional ovens that do not have a self-cleaning feature benefit from regular cleaning with steel wool. First remove the wire racks and set aside. Clean the oven with either a commercial spray, most of which have harsh fumes and chemicals, or make a homemade paste. Apply the cleaning solution of your choice and wipe or rub with the steel wool after the solution has sat for the recommended time.
Self-Cleaning Ovens
While the interior of a self-cleaning oven is not damaged by the use of steel wool, it is not required. Turn the oven on to the clean cycle and let it run, anywhere from 2 to 6 hours, depending on the model and manufacturer. At the end of the cleaning cycle, food spills are reduced to ash. Use a damp paper towel or sponge to remove the ash from the oven. You can, however, use steel wool to clean the oven racks inside the oven.
Steel Wool Is Not Safe for Use in All Ovens
Continuous cleaning ovens are textured with a porcelain finish. This delicate finish allows spills to gradually burn off while the oven is in use. Because steel wool will damage the inside of a continuous cleaning oven, clean it with a damp paper towel or sponge when the interior is cool. For spills that do not easily wipe away, spray with water, then work loose with your hands.
Other Oven Cleaning Tips
For regular, light oven cleaning, allow the cleaning solution to sit overnight and wipe away the next morning. When it is time to prepare an especially messy meal, cover the bottom of the oven with aluminum foil to avoid excessive spills from occurring. It is important not to let the aluminum foil touch the heating element because it can burn.