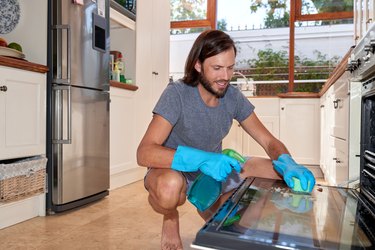 Oven cleaning is a task many of us put off as long as possible, but it doesn't have to be a chore. If you have a self-cleaning oven, you can simply press a few buttons and have your oven do most of the work. Unfortunately, self-cleaning ovens do throw off a lot of heat and often smell unpleasant while they are working. Luckily, you can also clean your oven easily and naturally with a mixture of dish soap, baking soda and vinegar. This cleaning combination is perfect for warm days when a self-cleaning cycle may make your home a bit too hot for comfort.
Self-Cleaning
Things You'll Need
Oven instruction manual (optional)

Damp paper towel

Step 1
Crack open a window, and turn on your kitchen exhaust fan. Oven-cleaning creates carbon monoxide fumes and requires proper ventilation.
Step 2
Completely empty your oven, removing everything including the oven racks. Remove any loose food particles as well.
Step 3
Lock the oven door. This is typically done by sliding a lever above the door. Consult your user manual for specific locking instructions for your oven.
Tip
Some ovens lock the door automatically when a cleaning cycle is started.
Step 4
Press the "self-clean" button on your oven, and select the cleaning cycle time. Most cleaning cycles require between two and four hours. The dirtier your oven, the longer the cleaning cycle you will need. When you've selected the desired cleaning time, press "start."
Tip
Older ovens may have dials rather than buttons. If that is the case, you will need to set your oven knob to "clean" and then manually set the start and end times for the cleaning cycle. Your oven's instruction manual or manufacturer helpline is the best source of instruction on how to do this.
Step 5
When the cleaning cycle is complete, give the oven time to cool and then wipe away the ash inside with a damp paper towel.
Natural Cleaning
Things You'll Need
Large bowl

1 1/2 cups baking soda

1/2 cup dish soap

1/4 cup white vinegar

Clean cloth or paintbrush

Plastic scraper

Clean, damp cloths

Dry, soft cloth

Step 1
Remove the oven rack and empty the oven. The cleaning solution won't harm the racks, but your oven will be easier to clean without them in the way.
Step 2
In a large bowl, make a paste by combining 1 1/2 cups of baking soda, 1/2 cup of dish soap and 1/4 cup of white vinegar. Spread the paste onto the surfaces inside your oven using a clean cloth. You can also use a clean paintbrush.
Step 3
Allow the paste to sit in the oven overnight.
Step 4
In the morning, wipe the paste out of the oven with a damp cloth. Use a plastic scraper to scrape off any stubborn areas. Continue rinsing the oven clean with fresh damp cloths until all of the paste has been removed.
Step 5
Dry the oven with a soft cloth.
Oven Racks
Things You'll Need
Large plastic trash bag

White vinegar

Baking soda

Water

Step 1
To clean grimy oven racks, remove them from the oven and place them in a sturdy plastic garbage bag.
Step 2
Pour a generous splash of white vinegar into the bag, followed by a large sprinkle of baking soda.
Step 3
Seal the garbage bag, and lay it flat outside in the sun for a few hours.
Step 4
Remove the oven racks from the bag and rinse them thoroughly before putting them back in the oven.