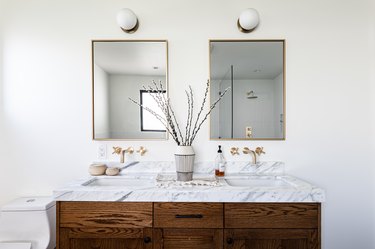 You can't beat good lighting in the bathroom (or powder room), but great lighting doesn't happen by accident. To get the best lighting possible, you'll need to pick out appropriate fixtures and then hang them at the proper vanity light height. The height and positioning of the lights you use above your vanity play a major role in just how well lit your space becomes. Of course, the proper bathroom vanity light height depends on the type of lighting fixture you choose.
Importance of Vanity Light Height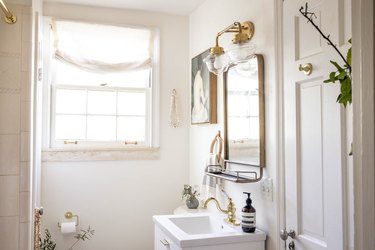 Bathroom vanity light placement is about more than looks. It's also about functionality. If your bathroom has an overhead fixture, it produces ambient light. This is the general light that filters throughout the room, but it's often not enough to get a good look at yourself in the mirror.
That's where vanity lights come in. Vanity lights are considered task lighting because you rely on their brightness for grooming while standing at your vanity. The height and type of task lighting can determine the effectiveness of the lighting.
Ceiling lights directly over your head make it tough to see what you're doing because you get lots of shadows on your face. Fixtures mounted on the wall above the bathroom mirror can also cause shadows if they're not installed well. Lights mounted along the sides of the vanity mirror offer the best illumination because they don't cause shadows. However, the height is still important. You want the fixtures to hang so they cast light across your face, not from above or below it.
The Right Height for Bathroom Sconces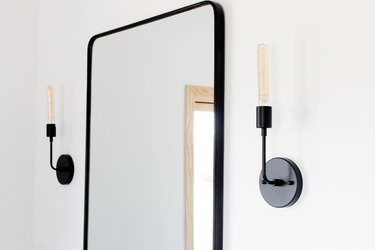 Sconce lighting on either side of the mirror offers the best light for getting ready and looking at your reflection. The light crosses your face evenly from both sides to give you a bright, clear look at your face in the bathroom mirror without shadows. Position the center of each sconce at roughly eye level. Because height varies, eye height is different for everyone. That said, a good standard height to hang your bathroom sconce is between 60 and 70 inches from the floor.
If everyone who uses the mirror is a lot shorter or taller, you can adjust the height based on that. Avoid installing lights on the side of a mirror at a lower height in a kids' bathroom, however. Lower lights make it easier for kids to see, but kids don't stay small for long. You don't want to install new light fixtures on the side of the mirror every few months as your child grows taller and taller. Instead, install your bathroom sconces at a normal height and place a step stool in the bathroom for your child if necessary.
The spacing between the two wall sconces is just as important as the height. If they're too far apart, you can get dark spots in the middle right where your mirror hangs. The ideal distance between sconces is 36 to 40 inches.
The Right Placement of Vanity Lights Over a Mirror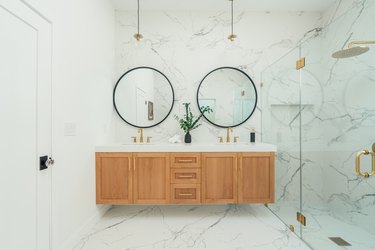 Sconces or vertical fixtures on either side of the mirror or medicine cabinet aren't always possible. You might have a narrow bathroom without extra space on the side, or your mirror might be so large that the sconce placement won't work. In those situations, a wall-mounted vanity fixture above the mirror is an option. When going this route, you need to know how much space there is between the top of the mirror and the ceiling. This way, you can pick a light fixture that will fit in that space.
Ideally, vanity lights mounted above the mirror should sit so that the bulb is 75 to 80 inches above the floor. It should also sit about 40 inches above the top of the vanity you've chosen. A square or rectangular mirror hung at least 5 inches above the vanity top needs a fixture that creates a spread of light with bulbs totaling no more than 150 watts. This creates a stream of light that highlights the face and head equally from left to right and closely approximates outdoor lighting. Hang a single fixture above a round mirror with either one or two globes and place it 2 inches above the top of the mirror.
If possible, try to hang the mirror 5 to 10 inches above the sink and a few inches above the highest point on your faucet. When mounting a light over the mirror, try to choose one that sits close to the wall so it doesn't stick out and create shadows.
Tip
You might feel a little overwhelmed at this point, but fear not! In a perfect world, you would be able to hit every one of the height measurements we just gave you. But depending on the size and layout of your bathroom, you may not be able to — and that's okay. Hit the marks that you can and do what works best for you.
The Right Bulbs for Bathroom Vanity Lighting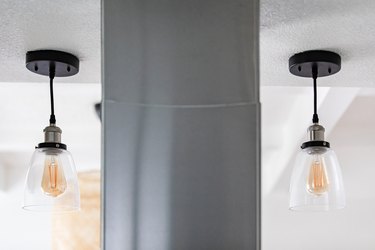 Forget fluorescent or overhead lighting in a bathroom. What you need is a bulb that creates an even light across the face, and it should be one that's not too hot or too cold. The best light bulbs for bathroom vanity lighting are LED light bulbs. They're more expensive than regular light bulbs, but they produce the best light temperatures and last much longer than traditional bulbs. The total wattage should be between 120 and 150 depending on the size of the bathroom and vanity.
Be sure to read the fixture instructions, as they often state the wattage it will tolerate. Don't go over that number. The color temperature of the LED is important, as anything over 3,500K is too bright, creating a cool effect, while 2,700K or under isn't sufficient lighting, and you'll find yourself squinting as you either shave or apply mascara. LED lights typically have the color temperature written on the package. Consider installing a dimmer switch to regulate the amount of light.
Safety Considerations for Installing Bathroom Vanity Lights
Water and electricity don't play well together, so think about hiring an electrician to install bathroom lights.
While you have an electrician in your home, ask them to verify that all of your bathroom outlets are GFCIs.
Always make sure that you (or your electrician) have a thorough understanding of local codes related to bathroom lighting.
If you opt for a DIY install, always make sure you cut the power to the circuit. Test the wires with a voltage meter to make sure there are no live wires still hidden in the area.
Work with a buddy so that you're not alone if something does go wrong.
Bonus Bathroom Lighting Tips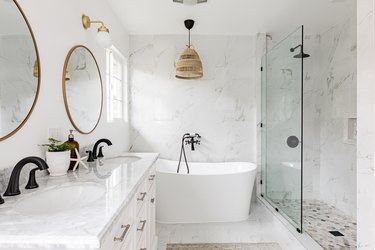 There are a few common mistakes you should avoid when it comes to bathroom lighting. Recessed and flush-mount lights are among them. It seems that a few well-placed recessed lights could be a sleek way to solve bathroom lighting problems, but they tend to throw shadows that make it hard to see clearly.
You may, of course, opt for whatever type of lighting you want, but sconces and pendant lights beside the mirror tend to work better in large bathrooms. When space is limited, a light fixture above the bathroom mirror tends to work better (some vanities come with pre-installed vanity mirror lighting).
Skipping the dimmer switch is another common mistake. When you're putting on makeup or shaving in the morning, you want lots of bright light. But you may want a little more subtlety and ambience for a relaxing soak in the bath after a long week.
Dimmer switches are the answer. They allow you to control the brightness of your lights at any given time. You don't have to buy multiple bathroom light fixtures to enjoy different light intensities. A dimmer switch lets you create several lighting effects with one light fixture.