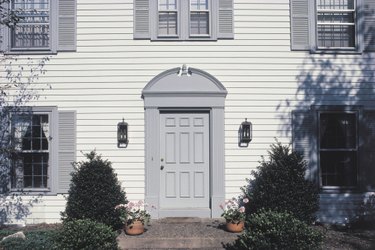 The SmartCode series of electronic deadbolts from Kwikset offer an alternaive to traditional key-based deadbolts. The system features single push locking and programmable un-lock codes. The SmartCode operates on 4 AA size batteries and does not require professional installation. Problems with the SmartCode are most often caused by improper door alignment or missed programming procedures.
Step 1
Take the battery pack out of the unit and depress the button labeled "Program" three times if the unit doesn't operate properly after installation or fails to open with a key. Allow ten seconds to elapse, then hold down the "Lock" button while reinstalling the battery pack. Continue to hold down the "Lock" button until the bolt begins to move, then release the button. Wait for the LED on the interior side of the unit flashes and the unit emits a beep, indicating successful bolt operation programming, before further operation of the lock.
Step 2
Realign the door if the bolt does not operate smoothly when opening with a key. Press the "Lock" button on the keypad, then enter the security code to resynchronize the bolt.
Step 3
Pull out the battery pack and push "Program" three times if the SmartCode fails to initialize after battery removal and re-installation. Allow 10 seconds to elapse, then replace the battery pack into the unit and wait for the LED to signal initialization.
---
Connecticut-based Stacy Morgan began writing for eHow in 2009. Morgan graduated from the Porter and Chester Institute of Technology with a certification in architectural drafting.