Things You'll Need
Sand paper

Paintbrush

Primer

Paint

Painting tape

Cloth rag

Razor blade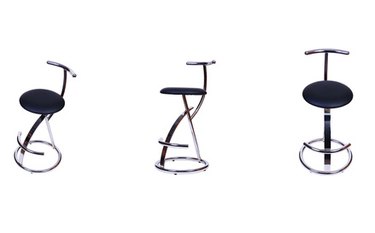 You can paint over chrome on furniture or just pieces of chrome on furniture to complement a room's decor or to customize the look of your furniture. The most important part of the chrome painting project is the sanding process. Good sanding removes the smooth chrome finish, allowing fresh primer and paint to attach to the metal for a professional finish. Get creative with your furniture to give it a colorful flare and a fresh look.
Step 1
Use sandpaper to sand down the chrome areas of your furniture. If your entire piece of furniture is chrome, sand the whole thing. If only parts of your furniture are chrome, cover the areas touching the chrome with tape so that they will not be affected by the rough sandpaper and to protect them from getting paint when you begin to paint the chrome.
Step 2
Wipe the sanded chrome areas with a damp cloth to remove the dust from the sanding process. Replace any tape that came loose or was ripped during sanding with new tape strips so that your furniture is still protected for the painting process.
Step 3
Paint a coat of primer with a paintbrush onto the sanded chrome areas. Let the coat of primer dry for at least 24 hours before adding your first coat of colored paint.
Step 4
Apply a coat of colored paint to the sanded and prime chrome areas of your furniture. Let the first coat dry for about half a day, and then apply a second coat of colored paint. Allow another half day for the second coat to dry.
Step 5
Use a razor blade to cut the areas where the tape touches the chrome. This will remove the primer and paint barriers without pulling off any of the paint.
---
Kim Fuller has been writing food and lifestyle features since 2007. She now lives in Vail, Colo., after spending one year traveling Europe. Fuller is a regular contributor to Gaiam Life, an online fitness and wellness publication. She holds a Bachelor of Science from the School of Journalism and Mass Communication at the University of Colorado in Boulder.