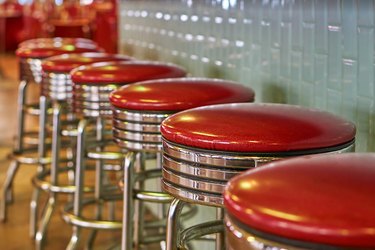 As with most metals, you can paint chrome, but if you fail to do the right prep work, your paint job may look shoddy and may come off easily. That's because the hard, slick surface of chrome makes it difficult for paint to stick. With a little elbow grease, though, your chrome furniture can look fantastic when painted any color you choose.
Things You'll Need
Dish soap

Bucket

Shop rags

Toothbrush

How to Paint Chrome Furniture
Step 1: Clean the Surface
Mix dish soap with warm water in a bucket and use a shop rag to clean the surface of the metal. If necessary, you can use a toothbrush to reach into the nooks and crannies. Rinse well and dry with a clean rag.
It's important that the surface is entirely clean, so if the dish soap hasn't cut it, you may want to reach for something more abrasive, like scouring powder. Don't worry about scratching the surface, as you'll be purposely doing that before painting anyway.
Step 2: Sand It Down
You'll need to rough up the surface with sandpaper to create a surface on which paint can properly adhere, but before you start sanding, bring the item outside and put on protective goggles and a dust mask to protect yourself from airborne metal particles.
Because chrome is so hard and smooth, you want to use really rough sandpaper to scuff up the chrome enough for the paint to adhere and then move to progressively smoother grits to ensure the surface is smooth enough to paint. For your first pass, use 120-grit sandpaper. Then remove any large scratches and further dull any remaining sheen with 240-grit sandpaper.
Use a clean rag to remove the dust and examine the metal. If there are any shiny spots or if there is any remaining rust, go over it again with the 240-grit sandpaper. When everything looks uniformly dull, smooth out the surface using 320-grit sandpaper, moving the paper in a circular motion from one side to the other. Periodically remove the dust to see if it is smooth enough to leave you with an attractive paint job. If it's not, keep sanding. If it is, remove all the dust using a clean rag dipped in water and then dry the surface with a fresh rag. Let the entire surface dry fully before moving on to the primer.
Step 3: Apply the Primer
Using primer is critical to ensuring you get proper adhesion when painting chrome. Choose a rust-inhibiting, sprayable primer. Shake the primer for 30 seconds and then spray from about a foot away from the surface, working in segments and using steady sweeping motions going from one side to the other. Allow the primer to dry overnight before painting.
Step 4: Paint the Chrome
Now that the metal has been properly prepared, you can paint the chrome. Use a spray paint designed for use on metal. If the item will be used outside, select an enamel made for outdoor use that can protect the material from rust. Before spraying, shake the can for at least a minute, especially if you're using a metallic color with shiny flakes. Just like the primer, apply it from a foot away in a smooth, sweeping motion, going across the surface one section at a time.
Let the paint dry and apply a second coat. Let the paint cure according to the manufacturer's recommendations.
Step 5: Seal the Paint
Apply a layer of sprayable sealant designed for use on metal to protect the paint from scuffs and scratches.