Things You'll Need
White paper towels

Water

Carpet cleaning machine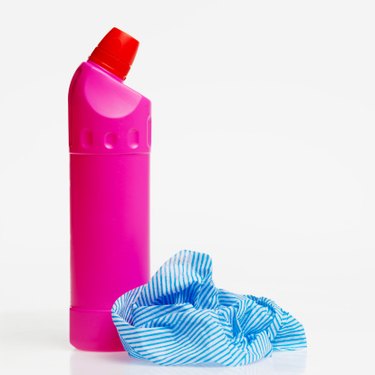 Spills happen no matter how hard you try to stop them. Unfortunately, if you spill liquid laundry detergent on your carpets you will need to proceed with care. You don't want to use the products you usually use to clean up spills as they can make the laundry detergent stain the carpet permanently.
Step 1
Scoop up as much of the liquid laundry detergent as you can from the top of the carpet fibers. Use white paper towels to do this so you can easily throw the soapy paper towels away.
Step 2
Spray warm water over the laundry detergent.
Step 3
Suck up the water and the laundry detergent with a carpet cleaning machine. If you don't own one, you can rent one from a home improvement store or some department stores.
Step 4
Re-wet the area with more warm water and use the carpet cleaning machine to pick up the water and detergent. Do this three or four times.
Step 5
Wait for the carpet to completely dry. Check to see if any laundry detergent remains. If so, wet the area and use the carpet cleaning machine to suck up the water and laundry detergent. You may have to do this a few more times to completely remove the laundry detergent from the carpet.
Tip
You can use a white towel instead of the paper towels if you need to.
Warning
Do not use vinegar to help dissolve the liquid laundry detergent.
---

Alicia Bodine
Alicia Bodine has been a professional writer for 13 years. She has produced thousands of articles for online publications such as Demand Studios, GoBankingRates and WiseGeek. Bodine is passionate about gardening, travel, education and finance. She has received awards for being a top content producer.